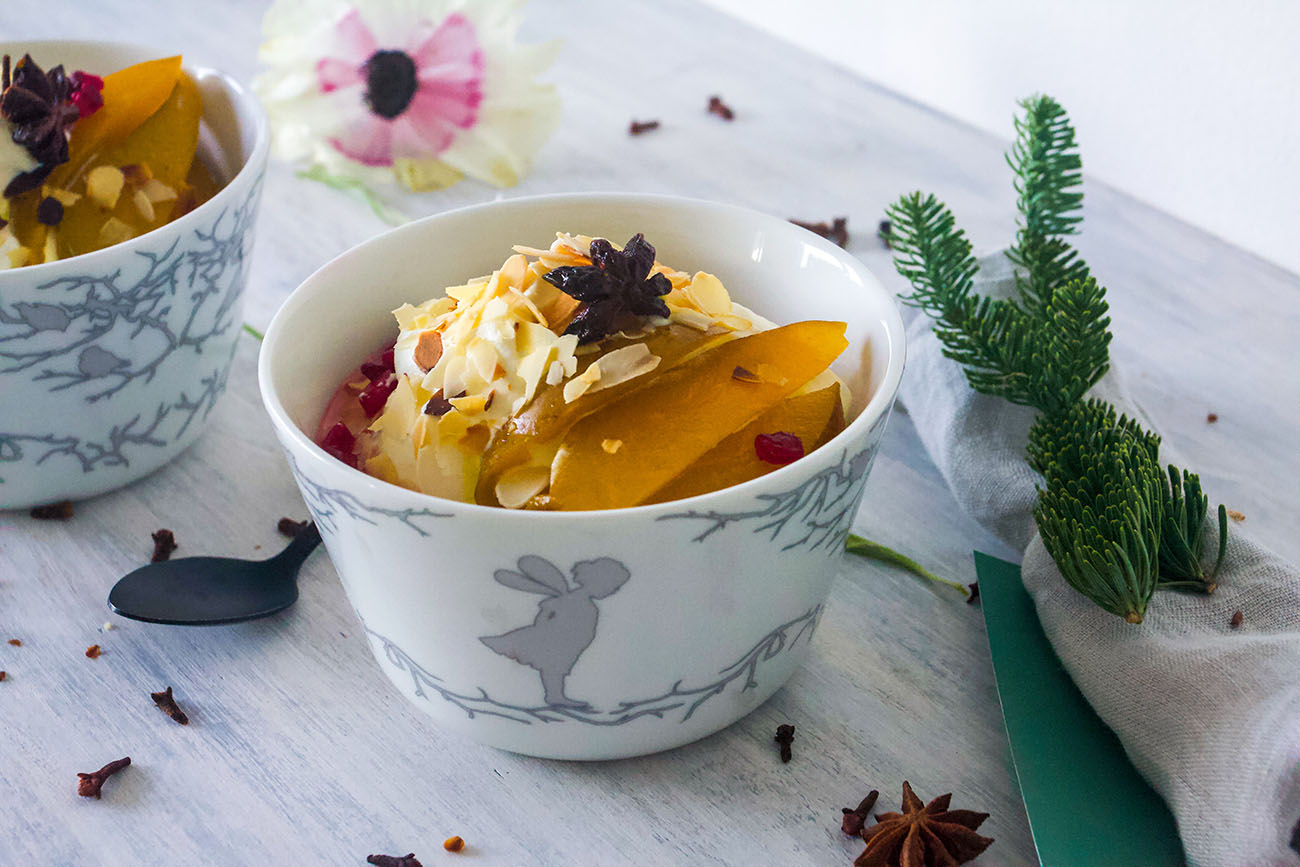 Swedish rice pudding – Ris á la Malta
There's a Swedish Christmas dessert that is called rice á la Malta. Swedish rice pudding. 
It's sort of rice pudding that has nothing to do with Malta at all. However, most families have their own recipe for it. It's mostly common during Christmas, but can, of course, be eaten all year long. 
Swedish rice pudding
Rice pudding has been of those Christmas desserts that is must on the Swedish Christmas table. We even had it on our, even though we celebrated a very typical Hungarian Christmas. 
None the less, my grandmother used to make it with canned sorted fruits and whipped cream. It's quite a heavy dessert. I love it and I used to save myself for the dessert table. No surprise to anyone who knows me. 
Christmas hostess
Since my grandmother died a couple of years ago, I'm the one who hosts Christmas every year. The Swedish rice pudding should not be forgotten. 
However, this year I decided to make in a different way. Mixing in a fewer other flavours that are very common during Christmas. A modern take on the classical Swedish rice pudding. 
Like a risotto
I made like I would a risotto, with love, butter and enough liquid. All the while, while constantly stirring. Well almost. But to bring out all the flavours properly you need to stir it. Make sure it's not too thick and add flavours accordingly. 
New Flavours
Saffron and elderberry goes very well with the classical dessert that is the Swedish rice pudding. They merry well and gives it a little more mature flavour. However it is also approved by teenager in the house!
Rice á la Malta
The perfect and essential Swedish Christmas dessert. A must at your Christmas dessert table.
Ingredienser
Rice pudding
2

dl

pudding rice

4-5

tbs

butter

300

ml

water

100

ml

elderflower fruit syrup

2

tsp

ground cinnamon

1/2

tsp salt

1

tbsp

sugar

750

ml

fat milk

50

ml

heavy cream
Pears cooked in saffron
1-2

pears

500

ml

water

0,5

gr

saffron

2

tbsp

honey

4-6

star anise
Decoration
4-6

star anise

100

gr

pomegranate seeds

100

ml

whipped cream

30

gr

roasted almonds

thinly sliced
Instruktioner
Start by slicing the pears into thinner slices. Bring water, honey, star anise and saffron to a boil. Add the pears and cook on medium heat for about 10 minutes. Or until softened.

In a thick-bottomed pot let the butter simmer and add the rice. Stir the rice until the surface is glossy and almost see through.

Add the elderflower syrup and stir for about 4 minutes. Add the water and bring to a boil. To boil for about 5-6 minutes while constantly stirring.

Add the sugar, salt, cinnamon and heavy cream. Bring down to a medium heat. Stir once more and add the milk. Let it simmer on low heat for about 40-50 minutes. Stir after 20 minutes. You may need to add a little milk. Add a little at the time. (It should have the same consistency as risotto.)

Bring the pan to a heat on medium-high heat and roast the almonds. They should start to get golden after 1-2 minutes. Whip the whipped cream to a firm consistency.

Top with the pears, star anise, whipped cream and pomegranate seeds.
As always please leave a comment, share or pin for later! 
For more Christmas recipes check out these saffron buns with white chocolate or my take on the gingerbread cookie or why not a soft gingerbread brownie?