Swedish gingerbread cookies
How about some Swedish gingerbread cookies today? I have to admit that I'm not a huge fan of the "normal" gingerbread. My kids love them though. And you can buy them in almost any store come October. Like with anything else you can get them in various sizes and in varying quality. If you don't want to make your own dough, you can get that too. The Swedish gingerbread cookie is the Christmas equivalent of the American chocolate chip cookie.
Swedish gingerbread cookies
These Swedish gingerbread cookies were born out of a batch caramels that went very wrong. They tasted good while making them. However, once they hardened they became jawbreakers, literally. But all those beautiful ingredients that made up that deadly caramel couldn't go to waste. Combine two Christmas treats into one should taste amazing and they did.
I used my mortar to chop up the caramels and they were a hit. If you don't have any unsuccessful caramels laying around, you can use any you have.
How to make them
Make sure that you have enough space between the cookies when you place them on a baking sheet. Since there is bicarbonate in them they will grow slightly bigger in the oven. Should they still your efforts somehow bake together, cut them with a sharp knife while they are fresh out of the oven and still soft. Then let them cool.
Tip: Serve Swedish gingerbread cookies with some blue cheese instead of regular crackers for Christmas.
For more tips on how to elevate your Christmas, try these wonderful white chocolate saffron buns or why not a softer version of the gingerbread and make a gingerbread brownie.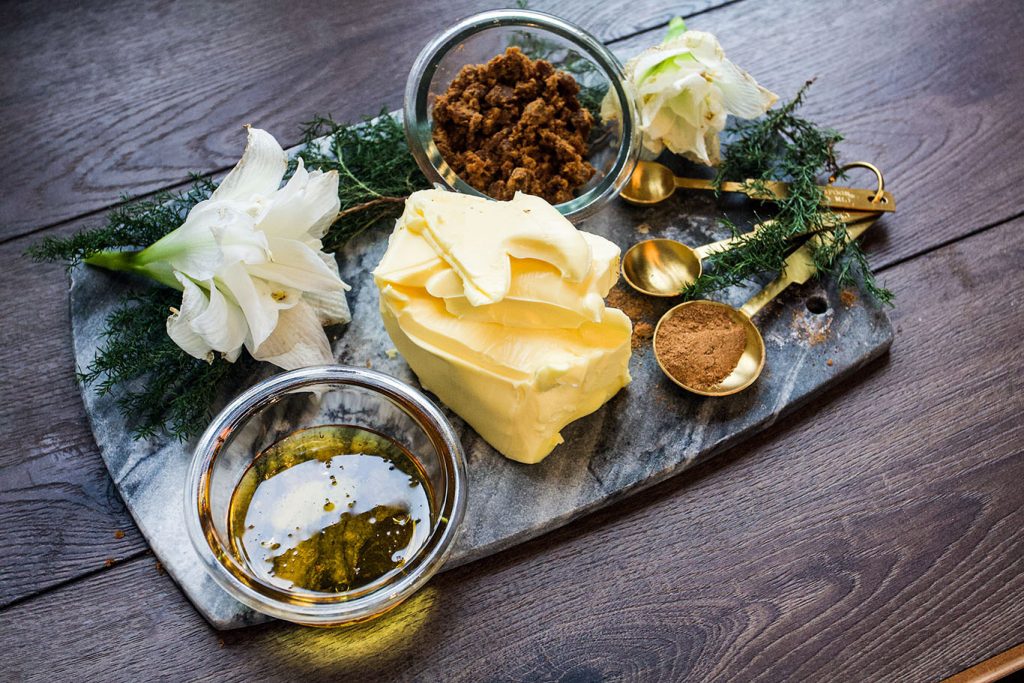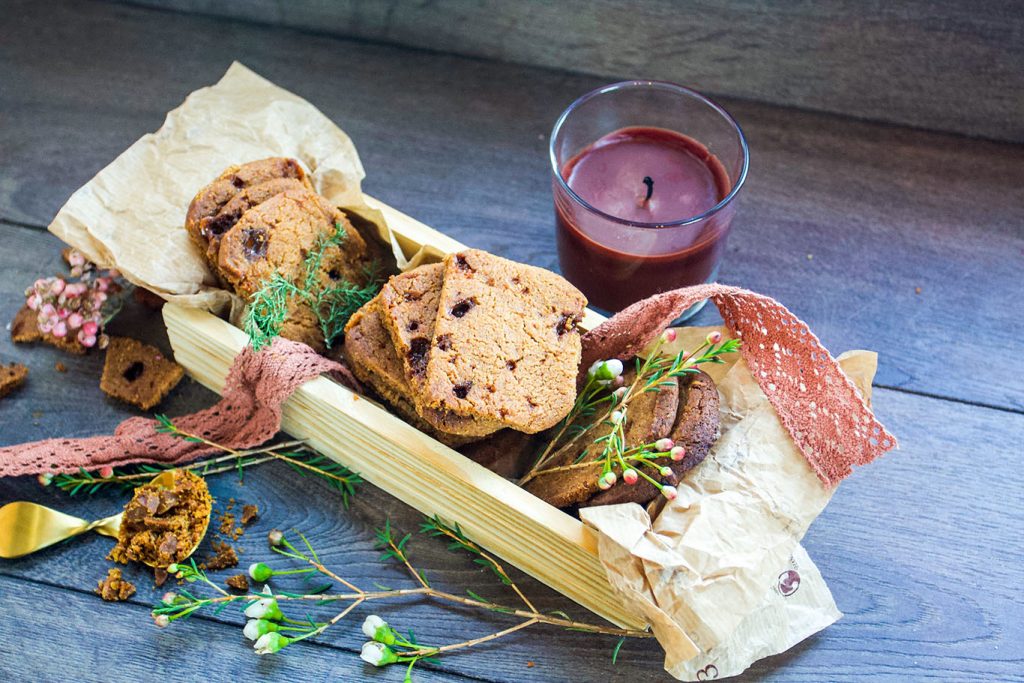 Skriv ut
Swedish gingerbread cookies with toffee crumbs
Swedish gingerbread cookies are a different take on the classic recipe. Perfect gingerbread taste for Christmas with bits and pieces of toffee crumbles.
Vad du behöver:
200

gr

soft butter

200

gr

brown sugar

100

gr

light brown syrup

1,5

tbsp

gingerbread seasoning

3

tsp

cinnamon

2

tsp

ground ginger

2

tsp

ground cloves

2

tsp

ground cardamom

1,5

tsp

bicarbonate

700

gr

flour

2-3

tbs

chopped caramel
Så här gör du:
Set the oven to 180C/fan.

Mix flour, ginger, cinnamon, cloves, cardamom and bicarbonate in a bowl and put aside.

Mix butter, brown sugar and syrup in a food processor. Whisk until smooth and airy.

Add in the flour into the butter mixture. Mix on a low speed until it becomes a dough.

Crumble the toffee/caramel into crumbs and mix it in with the dough.

Roll the dough into a roll and cut into half. Roll in a baking sheet and put it in the freezer to rest for about 30 minutes.

Slice the rolls into about two centimetres slices. Put the slices on a fitted baking sheet. Leave about 4 cm gap between them. Bake for about 10-12 min in the middle of the oven.

Leave on a rack to cool.

Please comment, pin for later or press like!