Eek, I'm so excited! Let me present to you, the Roasted pumpkin risotto. This is the first recipe of many for the Gram's weekend bags. As a collaboration, we are creating recipes for you and your family to enjoy during the weekend.
We thought that this would be a great way to start off your weekend. Using local, seasonal and ecological ingredients for your vegetarian or vegan dinners.
This is really exciting and Gram's philosophy goes well with my own. In terms of trying to think about the environment all the while, you enjoy food that good for the body as well as the soul. You will find this week's order here. Delicious Friday dinner with dessert and a lovely breakfast to accompany any Saturday morning!
For the rest of you who ordered last week, here's this weeks menu. For dinner, Roasted pumpkin risotto with dried cranberries with crisp carrot salad. Dessert is the pumpkin spice nice cream and breakfast is the best overnight bercher you will ever try. I promise.
Now, when you use the pumpkin for these recipes make sure you roast the pumpkin on its own since you need it for both the dessert and breakfast. And unless you really love garlic in your dessert it's better if you roast the garlic in an oven proof container of its own.
To order next week's food bag, please do it here.
Roasted pumpkin risotto with cranberries
13th October 2017
: 2
: 40 min
: 35 min
: Medium
Savoury and fresh risotto served with seasonal cranberries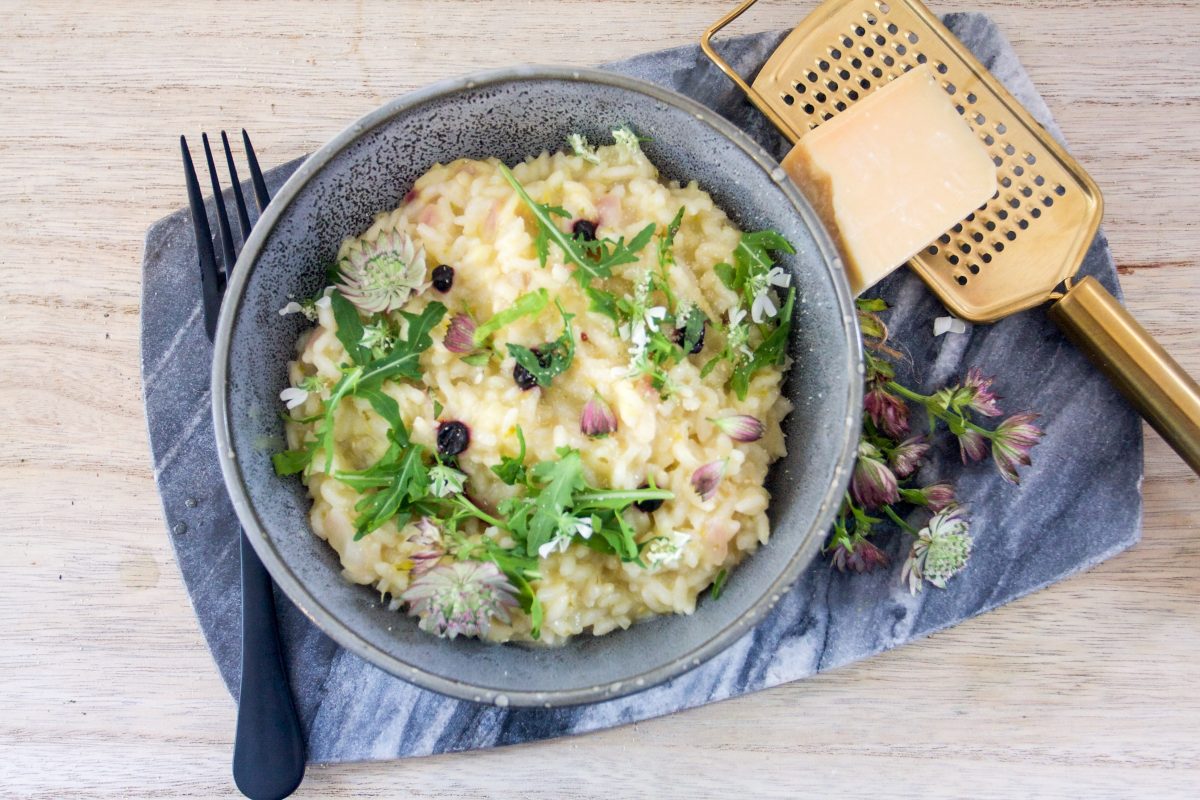 Ingredients
1/2 pumpkin (200 gr (2dl) of pumpkin purée)
1 shallot onion
4 cloves of garlic
3 tbsp chopped parsley
300 gr arborio rice
100-200 gr (1-2 dl) apple cider vinegar
600 gr (6 dl) water
1 tbsp vegetable broth
1-2 tsp salt
1 tsp black pepper
3 tbsp rapeseed oil
60 gr dried cranberries
100 gr grated parmesan cheese (optional)
Directions
Step 1

Preheat oven to 225 and start by deseeding the pumpkin.

Step 2

Drizzle with 2 tsp oil.

Step 3

Roast pumpkin and garlic. Roast for about 20-25 minutes.

Step 4

Once the pumpkin is roasted extract it from the skin.

Step 5

Remember to set 3 dl aside for the nice cream and berher. Before mixing with parsley.

Step 6

Put in a mixer along with garlic and parsley. Mix until smooth.

Step 7

Chop the shallot and fry it 2 tbsp oil for about 5 min. Add the rice mix and fry until the rice is seethrough about 6-7 min.

Step 8

Add half of the water and apple cider vinegar. Cook for about 15 min, stirring frequently. Add rest of the water and apple cider vinegar. Cook for about 15 min more. Keep stirring. The trick to a great risotto is the stirring.

Step 9

Add 2 dl pumpkin purée, salt and pepper. Stir until creamy.

Step 10

Add dried cranberries.

Step 11

Add grated parmesan cheese.

Step 12

Let it set for a little while and serve.