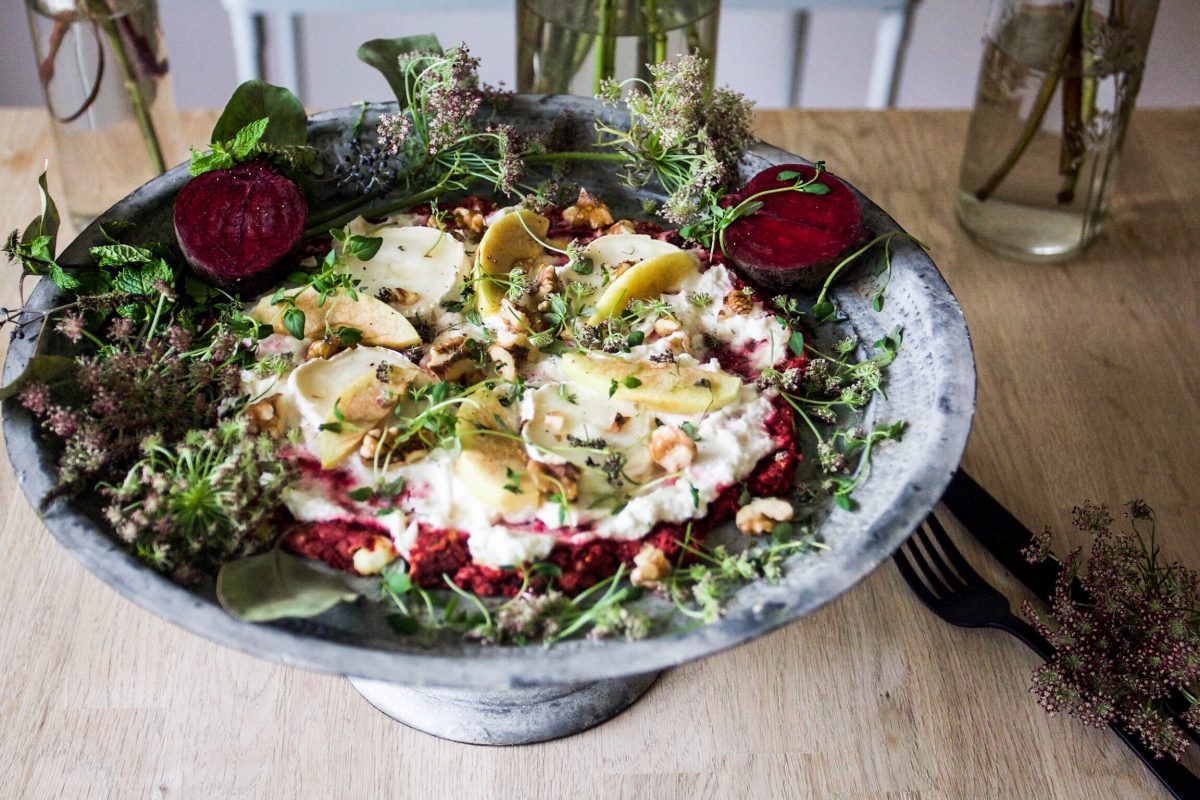 Triple cheese beetroot pizza
Do you love cooking seasonally? Either way, you'll love this recipe. Triple cheese beetroot pizza! It's not only pretty to look at with all the autumnal colours. But it's also packed with flavours to get you through the autumn.
Beets are not only delicious to eat, they are also packed with nutrients. Such as B vitamins, iron, manganese, copper, magnesium, and potassium. These red little gems are in season now, with all kinds of variations. I personally love the polka dot beetroot. Especially to eat raw in a salad. Fall apples are also in season, and they are particularly tasty to cook with. They tend to be a little bit more savoury and thicker. The flavours of beet, walnuts, cheese and apples are a match made in heaven! Triple cheese beetroot pizza, try it you guys!
[lt_recipe name="Triple cheese beetroot pizza" servings="2″ prep_time="10M" cook_time="15M" total_time="25M" difficulty="Medium" summary="Delicious beetroot pizza with creamy cheese" print="yes" image="https://usercontent.one/wp/www.carolinevass.se/wp-content/uploads/2017/10/IMG_0197.jpg" ingredients="For the dough;3-4 Medium sized beetroots;150 gr Feta cheese;1 Egg;150 gr Buckwheat flour;150 gr Cornflour;2 tbsp Oil (I use rapeseed oil);3 tbsp Thyme (either fresh or dried);2 Cloves of garlic;100 gr Ground walnuts;2 tsp flaked salt;1 tsp ground pepper;For the topping;150 gr Ricotta cheese;50 gr Goat cheese;1/2 Fall apple;1 tsp Flaked salt;1 tbsp Honey;;;;;;;;;" ]Put the oven on 225 degrees Celcius and peel the beetroots.;Slice them and mix them in a food processor until you get beetroot rice. ;Either chop or ground the walnuts. Depending if you want bigger pieces of walnuts in the pizza or not. ;Mix beetroot rice, egg, buckwheat flour, cornflour. ;Crumb the feta cheese and mix with oil, salt and pepper. Blend with flour mixture. ;Flatten the dough and make two pizza bottoms. ;Put them on a baking sheet. ;Bake in the middle of the oven for about 10-12M.;Take the bottoms out and spread ricotta on pizza bottoms.;Slice the apple and goat cheese to about 2-3 cm.;Put it in the oven for an additional 5 minutes.;Drizzle with honey and serve immediately ;;[/lt_recipe]