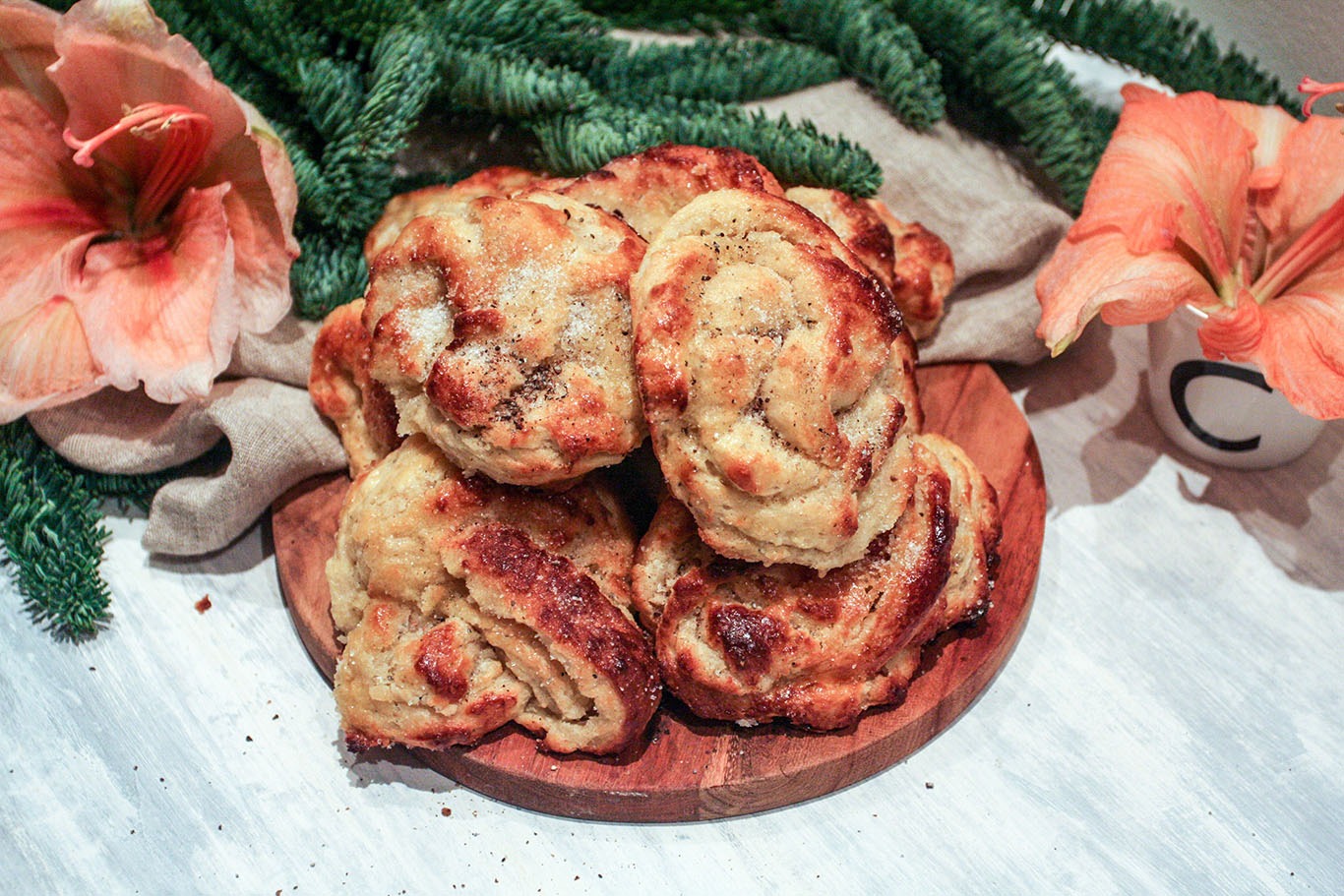 Swedish cardamom knots – time for fika
The cardamom knot or the bun if you will is the queen of Swedish fika. And fika is the palace in which you indulge the quintessential of Swedish culture. You can get a cardamom knot at pretty much any café in Sweden. That and coffee of course. We drink a lot of coffee too.
Fika is a national social structure in Sweden
We have morning fika and afternoon fika, and in many workplaces, it is still a way for co-workers to socialise across all disciplines. We simply love our fika. And you can get the cardamom knot pretty much in any café you go to. Now I'm going to tell you how to get a little a little more royal in your own home. 
I have a new friend, who I made through Instagram and she loves the Swedish cardamom knots. But she is yet to find a good recipe for cardamom knots. I decided to share mine with her and you.
Cardamom knots are really simple to make and usually, I make quite a few and pop them in the freezer. You can, of course, make buns if you prefer. And yes they are easier to make. If you make the buns you still do everything as it says in the recipe excpet for cutting the dough into stripes.
You will roll into a cylinder instead and cut them in about 4 cm pieces.
A few tips and tricks to help you along the way. Kneading a dough and get it to rise.
Make sure that all of your ingredients are at room temperature, it makes for a better result.
If you use fresh yeast make sure that the milk is not too warm (it should be lukewarm) otherwise it kills the yeast and your dough won't rise.
If you use sachets of yeast mix beforehand with half the flour and leave for 20 minutes.
When you knead the dough make sure that your dough is elastic and doesn't stick to the bowl. It should also be glossy when you leave it to rise.
Adding the butter last to your dough really does make a difference, don't skip this step.
Never ever let your dough rise in a cool place or in a draft. They yeast likes it warm and works best in a warm place.
Brushing the buns with the melted butter and sugar right after they are done keeps them moist for longer.
To reheat it the day after or so, use your oven on a low temperature. The microwave makes them soggy and then hard.
A video tutorial to make it easier
Cardamom knots
This is the very best of the Swedish fika, the Swedish cardamon knot or roll if you prefer. These ones have a twist. Not only buttery ground cardamom but almond paste too.
Ingredienser
The dough

30

gr

fresh yeast

250

ml

milk

570

gr

wheat flour

0,5

tsp

salt

5

gr

ground cardamom

90

gr

raw sugar

2

eggs

one for brushing

120

gr

butter

softened

Cardamom and almond filling

200

gr

Almond paste

2

tbsp

vanilla powder

30

gr

cardamom

160

gr

butter

softened

Butter and sugar coating

70

gr

melted butter

4

tbsp

sugar
Instruktioner
The dough
To make the dough, crumble the yeast and heat up the milk until lukewarm.

Combine the warm milk and yeast until smooth. Add one egg to the mixture.

Slowly add half the flour and beat well. Add the remaining flour, cardamom, salt and sugar and mix on medium speed for 10 minutes. Now, add the butter little at a time. Knead until it feels elastic and looks glossy. C

over with a kitchen towel. Let the dough rise to double its size, about 1 hour.

Preheat the oven to 190C

/fan.
Filling
To make the filling, mix the butter, almond paste, cardamom and vanilla until smooth and easy to spread.

Roll the dough into a 45cm by 60cm rectangle. It should be about 4 mm thick. Spread the filling on top. Fold the dough double and cut stripes that you twist into knots.

Place the slices onto a sheeted baking tray and let it rise for 45 min in a warm place.

Brush the buns with the other egg and bake them in the middle of the oven for about 9-11 minutes.
Butter and sugar coating
In the meantime melt the butter and mix with the sugar. Brush the knots with it when the knots are fresh out of the oven. Let them cool.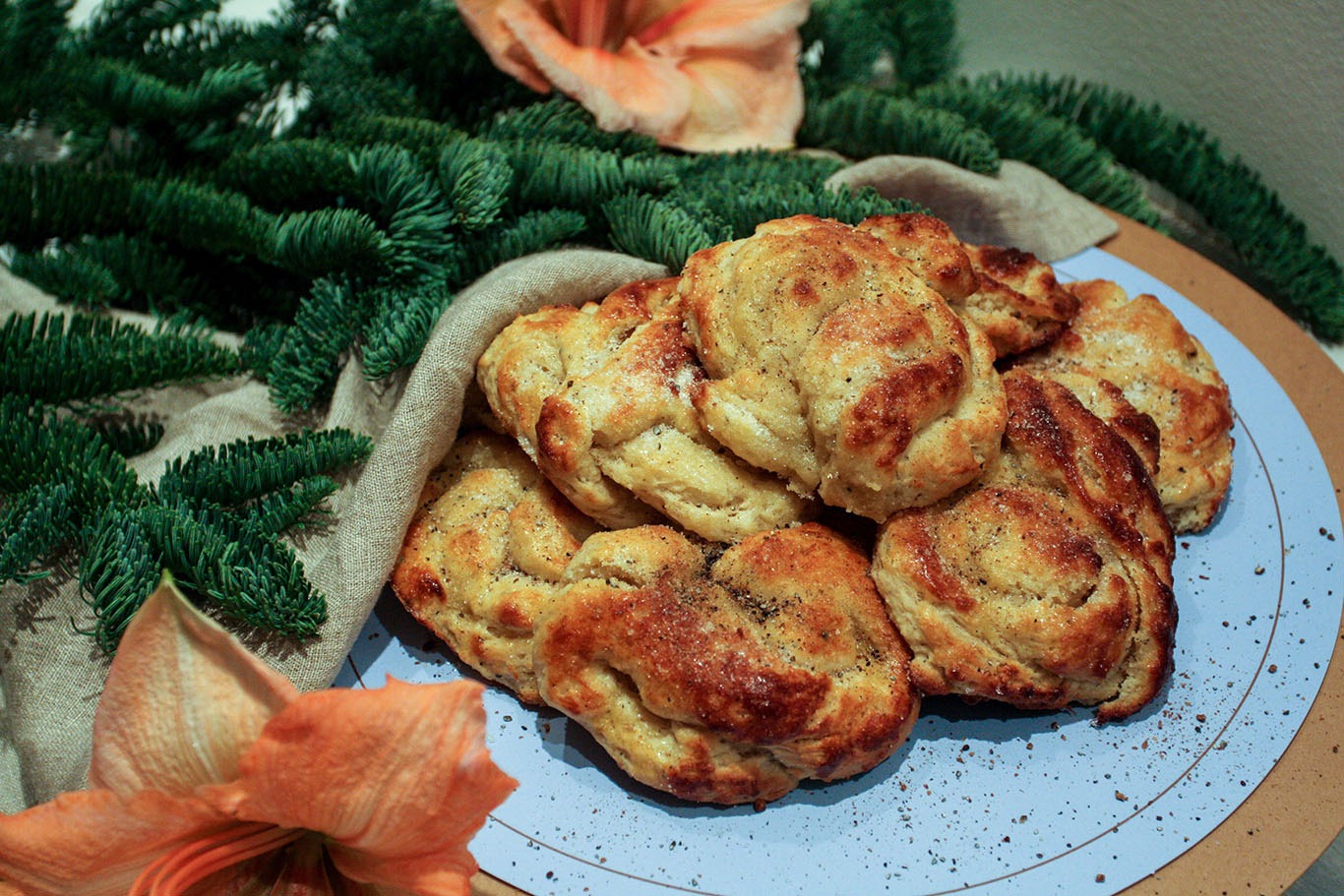 As always, I love when I hear from you! Comment, share or pin this recipe for later!