Creamy Chanterelle soup has got to be one of the most Swedish dishes I know of. Not for nothing we call it the "forest gold" in Sweden. And that golden season is upon us. What better way to kick off the season than with a creamy, full of flavour chanterelle soup? Enjoy!
The x marks the spot
People here in Sweden have their own secret spots for picking these golden mushrooms. You see these spots popping up all over Instagram. Without the geotag. The locations for these mushroom picking spots are secret.
Farmers market
Since I don't have a secret spot of my own I buy them in a store. Because how else would I make this delicious creamy Chanterelle soup? Is this where I blame my parent's for not being outdoorsy? Nah, I'll do that in another post.
Also, I'm going to let you in on a little secret. I love the farmers market but scavenging around the forest I do not.
Chanterelle soup
Where ever you get your Chanterelle mushroom you are going to love this creamy Chanterelle soup. The churned Dijon butter adds that extra depth of flavour.
Chanterelle mushrooms are quite sensitive. Therefore instead of washing them, brush them. And if you don't like bigger chunks of mushroom, cut them into small pieces. Otherwise, if you like me like bigger chunks of mushroom. Leave them as they are after you brush them.
Making this soup is easy and almost fail-proof. But because of the flavours, it tastes like you have been in the kitchen all day. It does taste even better the next day. So it's a perfect dish to prepare a day ahead.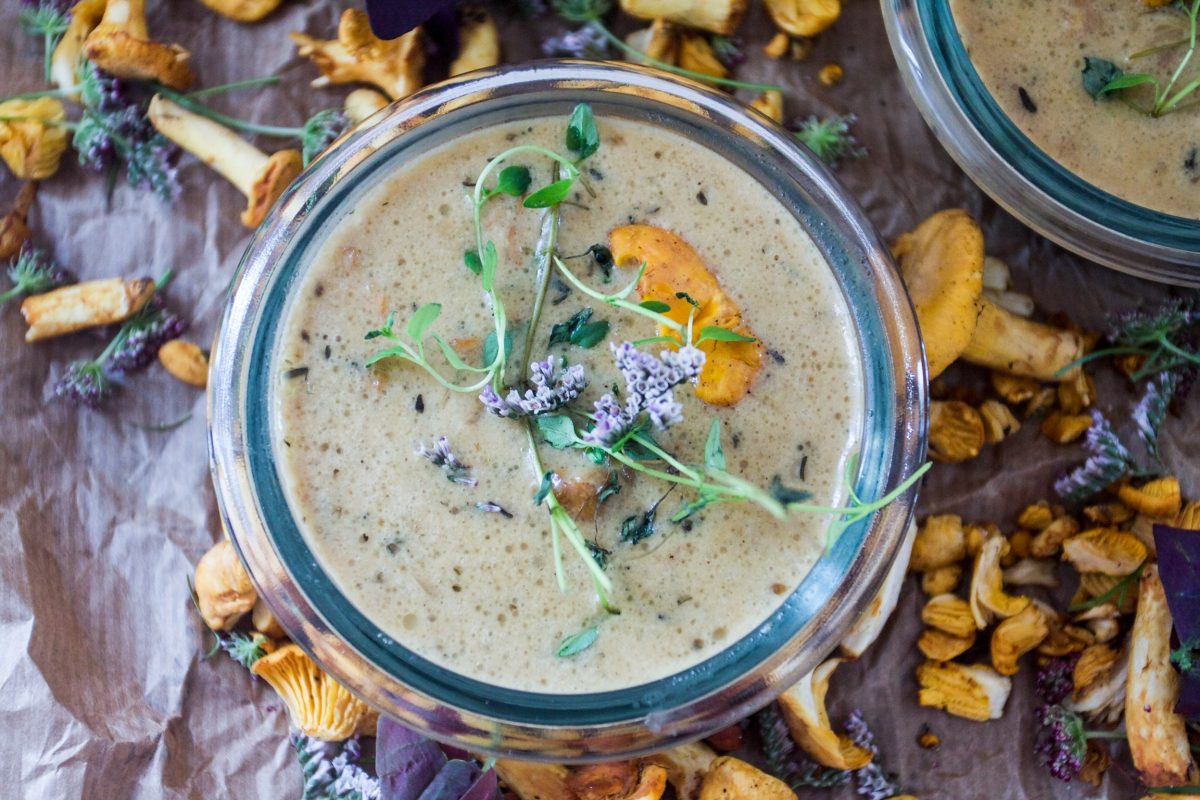 This creamy chanterelle soup is simple it's quick and full of autumnal flavours. And personally, as much as I love summer. Autumn is my favourite season. There is so much flavour in the foods. I love the colours and of course, a nice bowl of hot soup. Either like the Chanterelle soup or the Jerusalem artichoke soup.
Creamy Chanterelle mushroom soup
A creamy and rich Autumnal chanterelle soup to fill you up this Autumn. The churned Dijon butter adds an additional depth to this creamy chanterelle soup.
Ingredienser
400

gr

Chanterelle mushroom

3

tbsp

butter

1

small red onion

2

cloves of

garlic

300

ml

full fat cream

250

ml

water

1-2

tbsp

apple cider vinegar

1,5

tbsp

fresh thyme

1

tsp

flaked chilli

2

tsp

flaked salt

1

tsp

ground white pepper

1

tbsp

soy sauce
Churned Dijon mustard butter
1-2

tsp

Dijon mustard

3

tbsp

butter

softened

1

tbsp

chopped thyme

fresh

1

tsp

flaked salt
Instruktioner
Heat up a deep pot and melt the butter. Chop the onion and garlic and fry for about 5 minutes.

Stir in apple cider vinegar and add the water. Let it simmer for a couple of minutes.

Brush the Chanterelle mushrooms and chop them. Add to the pot and cook for about 10 minutes.

Add the heavy cream, soy and seasoning. Bring to a boil and let it simmer for 20 minutes.
Churned Dijon mustard butter
Whisk butter, Dijon mustard, chopped thyme and salt together. Whisk until fluffy.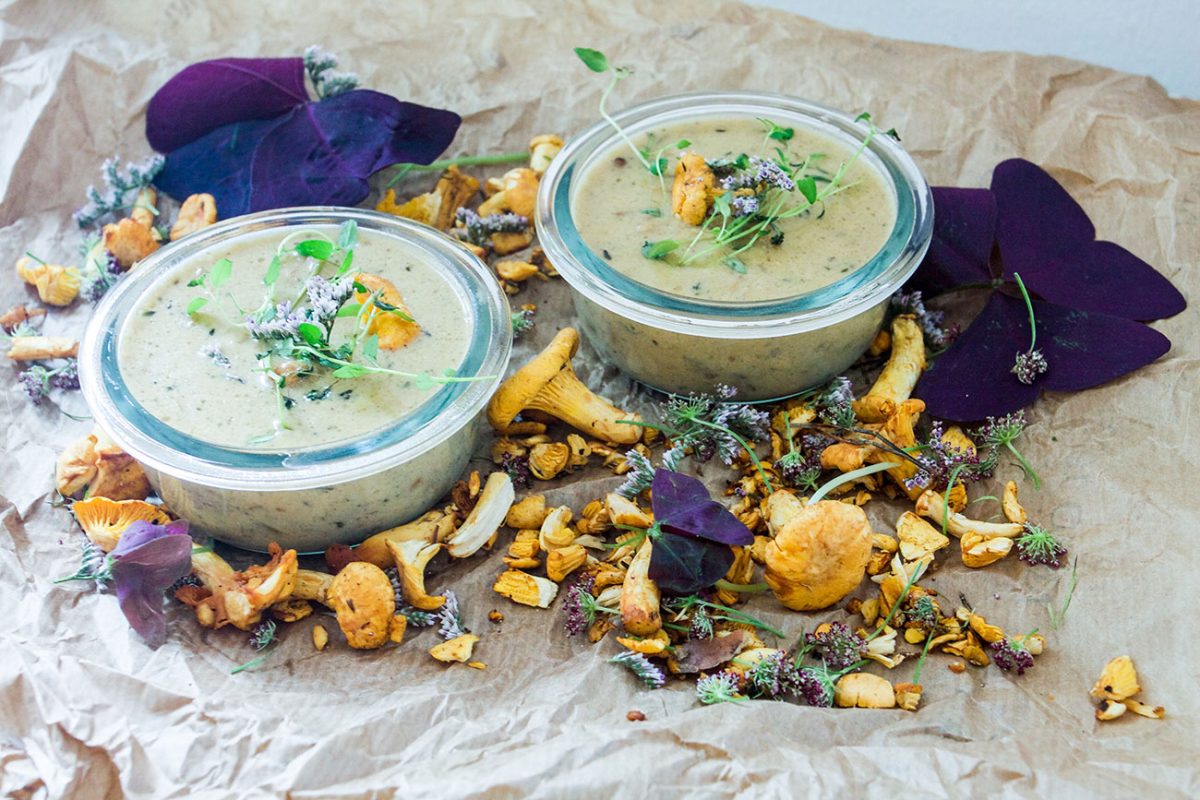 If you like Chanterelle mushroom, I have a few other Chanterelle mushroom recipes on the blog. Like the Mozzarella melt. for example.
And as always, I love to hear from you! Comment, share, like and make your own creamy Chanterelle soup!