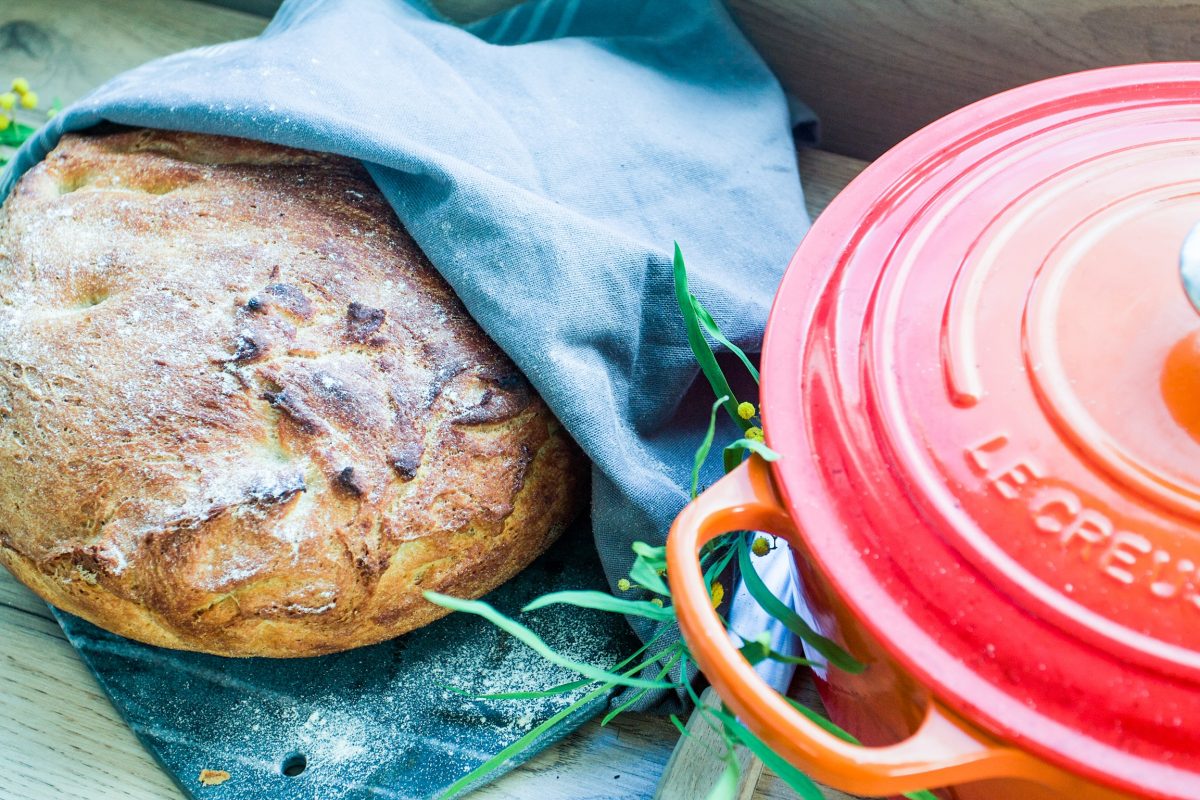 Hot Cast Iron Skillet Herbed Bread with parmesan cheese
This is a sponsored post
I have always loved the idea of cast iron skillet bread. It looks very beautiful and I also love the idea of tasteful bread baking by itself in the oven. While I can do other things. Well almost by itself.
Perfect savoury bread
However, this cast iron skillet bread is as simple as it is tasty. And this bread looks wonderfully delicious in this cast iron skillet in Volcanic from Le Creuset. It's the perfect size for our family of seven. (yikes)
We also eat a lot of bread during the weekend. Except for coffee, there's not a smell I love more than freshly made bread. I'm usually the first one to wake up in the mornings and while I make my coffee I make different kinds of bread for everyone. Except for this cast iron skillet herbed bread with parmesan, another favourite of mine is the brioche.
Scandinavian toppings
Really the herbs and the parmesan takes this cast iron skillet bread to another level. It gives the bread a fuller taste and it pairs perfectly with piquant cheese, such as a blue cheese. Or why not try avocado and salmon a very typical Swedish breakfast topping.
Cast iron skillet herb bread with parmesan
Perfect bread for any day of the week.
Ingredienser
600

gr

cold water

15

gr

fresh yeast

150

gr

durum wheat flour

600

gr

wheat flour

100

gr

almond flour

3

tsp

salt

3

tsp

dried oregano

3

tsp

dried thyme

1

tsp

flaked chilli

100

gr

parmesan cheese

grated

5-6

tbsp

olive oil
Instruktioner
Mix all the dry ingredients in a mixing bowl.




Mix lukewarm water with the yeast and mix it with the dry ingredients.

Knead for about 10 minutes.

Cover the bowl with plastic and let it rest for an hour. Important that the dough gets to rest at room temperature and nowhere near a draft.

Set oven to 250 degrees Celsius and "bake" the cast iron skillet until 250 degrees. With the lid on.

Take out the cast iron skillet and cover the bottom with olive oil and put in the dough, cover with the lid. Bake for 40 minutes at 250 degrees.

Take the lid off and bake for an additional 20 minutes.

Let the bread cool before you take it out of the cast iron skillet.