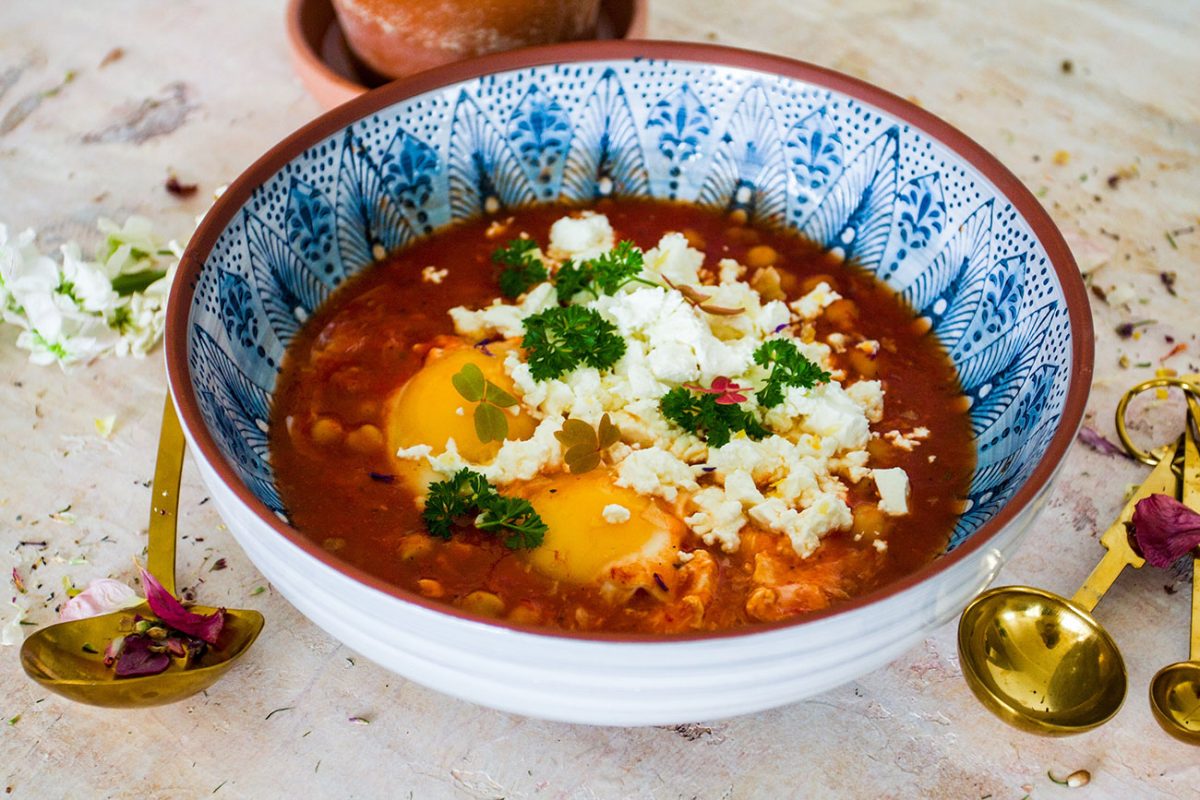 Shakshuka -Middle eastern quick food
Shakshuka is my favourite Middle Eastern go-to meal. It's quick, it's very flavourful and all it takes is 20 minutes. And if you have eggs and tomato sauce you have your base. I would say that's pretty damn perfect.
Shakshuka – what?
I always mispronounce this and call it Shakshukra and my son calls it Shakira. However, you want to pronounce it – I really urge you to try it. Traditionally the recipe requires Harissa, which is a hot chilli paste. Usually, it has a smoky flavour.
I didn't have Harissa at home. Therefore I switched it up a little. Onion, tomato and garlic serve as a base in this recipe. Which incidentally is the base of a lot of Hungarian dishes.
Quick after-school dinner
My boys went back to school last week. And thus hell hour can commence.
Shakshuka is such a quick and easy meal. And you can put pretty much anything you desire in this dish. My kid's love it with chorizo. I like it just the way it is written in the recipe down below. But whatever makes my kids happy.
That's the good thing about Shakshuka you can have chorizo on the side and they can make their own Shakshuka. Or inspired by Shakshuka.
Although, like Huevos Rancheros Shakshuka is originally a Middle Eastern breakfast dish. I prefer to eat it as a dinner. It's also a perfect addition to any brunch table.
Poached eggs
Except for the spices the trick succeed with Shakshuka is poaching the eggs right. While not as difficult as poaching them in water it can still be a little tricky.
If you crack the eggs as close to the pan as possible. Almost sliding them in. That way they keep their round shape. Have a little space between the eggs. So that they don't form one giant egg.
Shakshuka
The best Middle Eastern shakshuka recipe. Eggs poached in a spicy tomato sauce packed with flavours. It's a quick healthy meal. And it's vegetarian and gluten-free too.
Ingredienser
3

tbsp

olive oil

good quality

2-3

cloves

of garlic

1

small

red onion

1

medium sized

tomato

1

tsp

ground cumin

1

tsp

turmeric

1

tsp

smoked paprika

2

tsp

sweet paprika

1

tsp

chilli flakes

1

tsp

salt

1

tsp

ground black pepper

400

gr

tomato sauce

4-5

eggs

150

gr

feta cheese

4

tbsp

chopped parsley

120

gr

cooked chickpeas
Instruktioner
Heat up the oil on medium heat. Slice the onion and garlic thin. Chop the tomato.

Fry the onion, garlic and tomato. Then add the spices. Stir occasionally until the onion is soft. Add the tomato sauce and the chickpeas.

Lower the heat and gently the break the eggs into the pan. Let them poach for about 10 min.

Chop the parsley and crumble the feta. Top the Shakshuka with both.