Hungarian plum dumplings or Szilvás gomboc as they are called in Hungarian is the epitome of my childhood. This is how my grandmother showed me her deepest love for me. And after making Hungarian plum dumplings myself I now know how deep that love went.
There is no shortcut to making Hungarian plum dumplings. However, the effort is worth it. The dough is the same as when you make gnocchi. It's made from potato pasta. The hardest part of making Hungarian plum dumplings is making the actual dumplings. Then have them to stay in the shape of a whole ball whilst cooking them.
But more about this later on. I saw my grandmother make this every year. She made them when she had the right plums and potatoes were in season. The recipe is created from memory with a little help from my mother.
Hungarian plum dumplings – dessert or main dish?
Well, I can understand why you might think that. Since they are sweet and you eat them with sugar. However, they are typically eaten as a main dish. But honestly, I eat them for breakfast. I have them as a main dish in the evening. And if there are leftovers, I eat it for breakfast.
So basically as long as you try Hungarian plum dumplings eat them any way you want.
Hungarian plum dumplings – how to succeed
Mealy potatoes, this is essential. Otherwise, the dumplings won't hold together when you cook them. Or you are at risk of making spongy Hungarian dumplings.
Take your time. Don't rush through the process allow it to take time.
When you form the dough balls try to get the same thickness around the plum. If it's too thin and you can see the plum through the dough it's too thin. You risk the dumpling to crack while you cook it.
Use a large pot filled with water when you cook the dumplings.
Don't overcrowd the pot with dumplings. Rather cook a few ones at a time.
Use a perforated ladle to scoop the dumplings out from the water. That way you don't risk squashing them.
If you can use fine breadcrumbs, otherwise you can get a harsh texture in your mouth.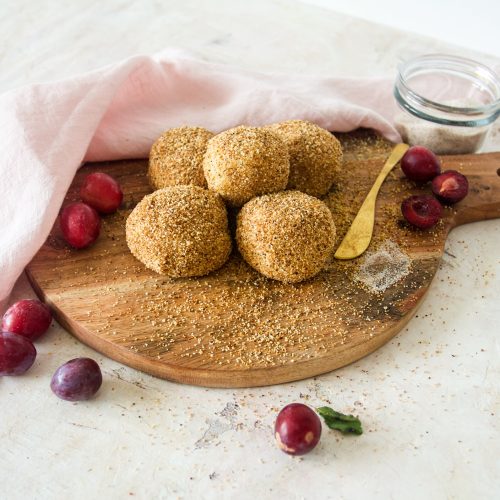 Hungarian plum dumplings
Ingredienser
820

gr

potatoes

mealy

1

egg

medium sized

1

egg yolk

medium sized

100

gr

flour

2

tbsp

cornflour

0,5

tsp

salt

500

gr

plums

sweet ones

1

tbsp

cinnamon

3

tbsp

sugar

300

gr

breadcrumbs
Instruktioner
Mix 1-2 tsp cinnamon with 2 tbsp sugar. Pit the plums and sprinkle with the cinnamon and sugar mixture.

Peel the potatoes and cook in salty water. The water should just cover the potatoes. Add 1/2 tsp salt. Cook for about 10-15 min or until soft.

Rinse the potatoes and mash them. There mustn't be any lumps. Make a little hole in the middle and add the egg. Fold into the mashed potatoes with a fork. Add the egg yolk and do the same.

Add the flour until you have a dough. Depending on the quality of the potatoes this could be less or more flour. Lastly, add the cornflour. Now you have a dough.

Make a roll and cut it into 12 pieces (about 4 cm each). Form into a ball and knead the balls flat.

Put one plum (halved) in the middle and form into a ball.

Bring a big pot of water to boil and gently put the balls into the salted boiling water. Put in just a few balls at a time and they should float up to surface once they are ready.

Heat up a large pan to medium heat and roast the breadcrumbs. Stir the breadcrumbs until golden brown.

Roll the hot dumplings in the breadcrumbs until covered. Serve with sugar mixed with cinnamon.
I have created visuals for each step of the way. That way it's easier for you to make your own Hungarian plum dumplings.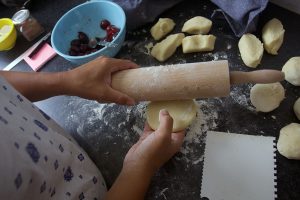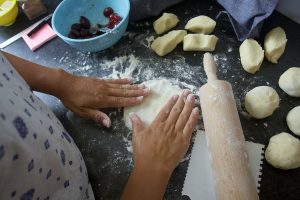 Place on or two halved and pitted plums in the middle.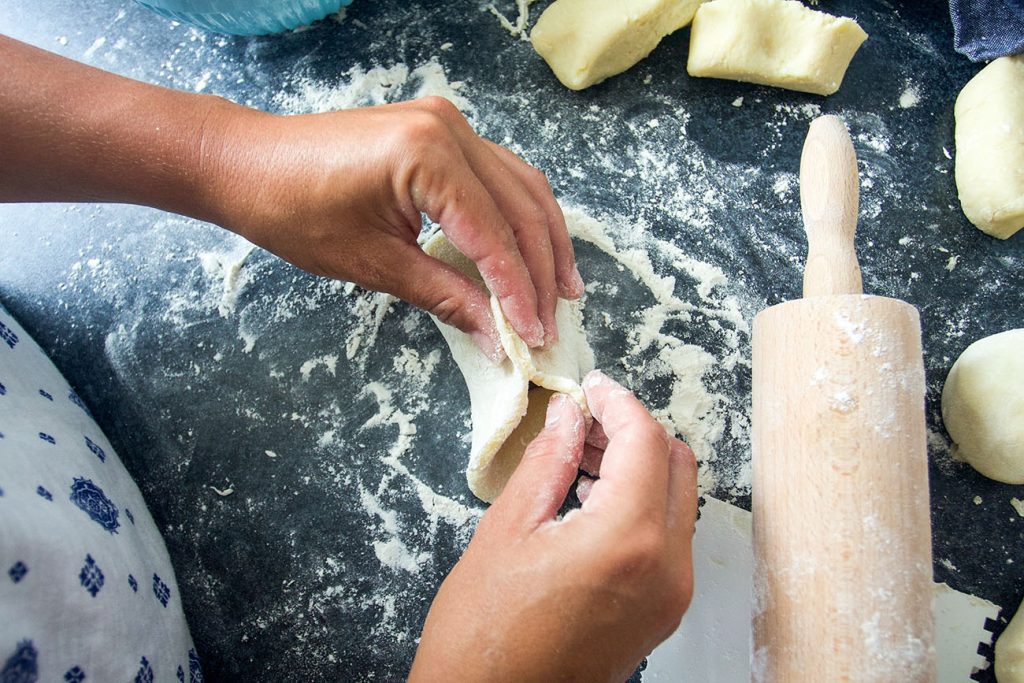 Fold the sides together forming a ball.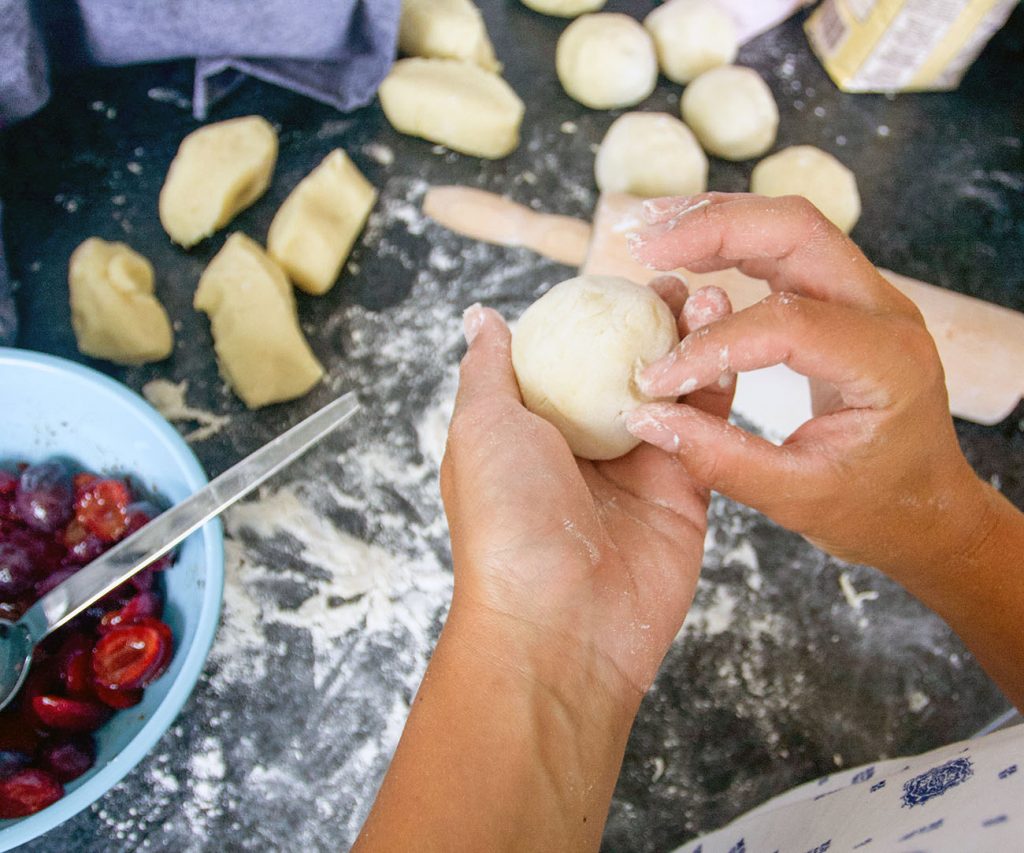 Shaping the dumplings into small balls.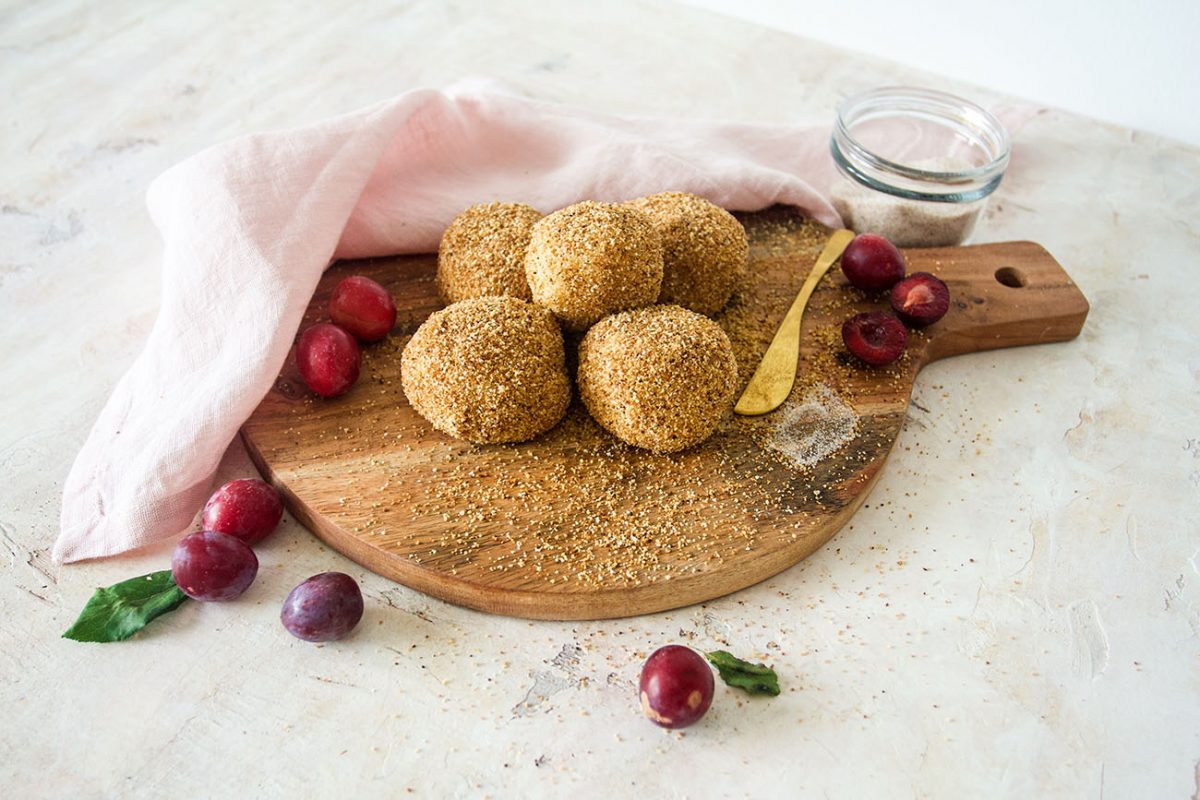 Sprinkle with sugar and cinnamon and enjoy!