Jack O'Lantern bell peppers are such an easy and delicious dish to make. We made them for Halloween and will make them again this Saturday for a Halloween party. Bell peppers are easy to make into scary faces and even the kids can help carve them. I filled mine with couscous, but really you can use anything to fill them with anything.
My grandmother used to fill them with minced meat and cook them in tomato sauce. They weren't Jack O' Lantern bell peppers but filled bell peppers none the less. I wanted to make me Jack O'Lantern bell peppers vegetarian, thus I skipped the meat this time. If you want them gluten free fill them with rice instead of couscous. I tried a batch with red rice, it came out really delicious.
You can either have this as a main dish or a part of many smaller dishes. You can serve them with Hasselbat potatoes and a mean kidney bean dip.
Jack O'Lantern bell peppers
3rd November 2017
: 2
: 5 min
: 20 min
: 25 min
: Medium
Scary and delicious treats for Halloween.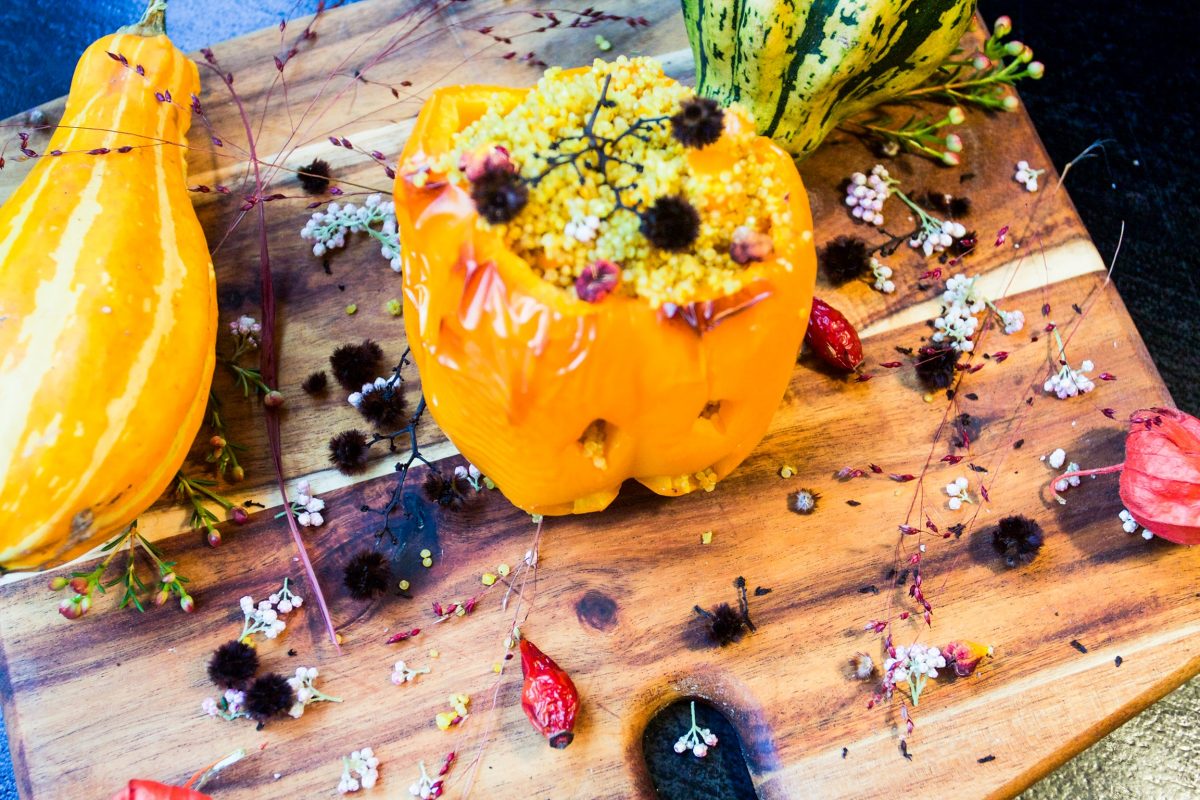 Ingredients
250 gr couscous
2 tbsp vegetable broth
2 large orange bell peppers
1 small red onion
1 tbsp chopped parsley
1 tbsp olive oil
1 tsp salt
1 tsp pepper
Directions
Step 1

Start by rinsing the bell peppers and take out the core of the peppers. Then carve out eyes and mouth.

Step 2

Heat up the oven to 220 degrees Celcius.

Step 3

Then cook the couscous. You need 200 gr water for 100 gr couscous. Bring the water along with the broth to a boil in a pot. Pour in the couscous, take it off the heat and put the lid on. Let it rest for 10-15 min. Then season with salt and pepper.

Step 4

Chop the red onion into small pieces. And along with the parsley and oil, mix it with the couscous.

Step 5

Fill the bell peppers with the couscous and bake in the oven for about 10-15 min, depending on your oven.

Step 6

Serve it warm!