American spirulina oat pancakes, how do you like the sound of that? I have been a big fan of spirulina for a long time, way before it even got trendy. I like that it's healthy and I adore the beautiful colour. This green and blue superfood is an alga, and just as little as one tablespoon a day can have major health benefits for you. You can read more about here.
Spirulina has been called the most nutritious food on the planet. So you can understand why I wanted to introduce it to my kids. Now my kids love sushi, but peel of the Noori, because they simply can't eat seaweed. Selling algae for breakfast proved a little bit challenging. So what's a mama to do? American spirulina oat pancakes, of course! This proved very popular.
They were even amazed by the beautiful gree blueish colour. The flavour doesn't come through. Especially if you add toppings to your pancakes. Of course, if you don't mind the spirulina flavour, add a little more than the recipe says and it will come through. If you want more of a rich pancake, this does the trick. Either way, try it, you won't be disappointed.
American spirulina oat pancakes
18th September 2017
: 10 pancakes
: 25 min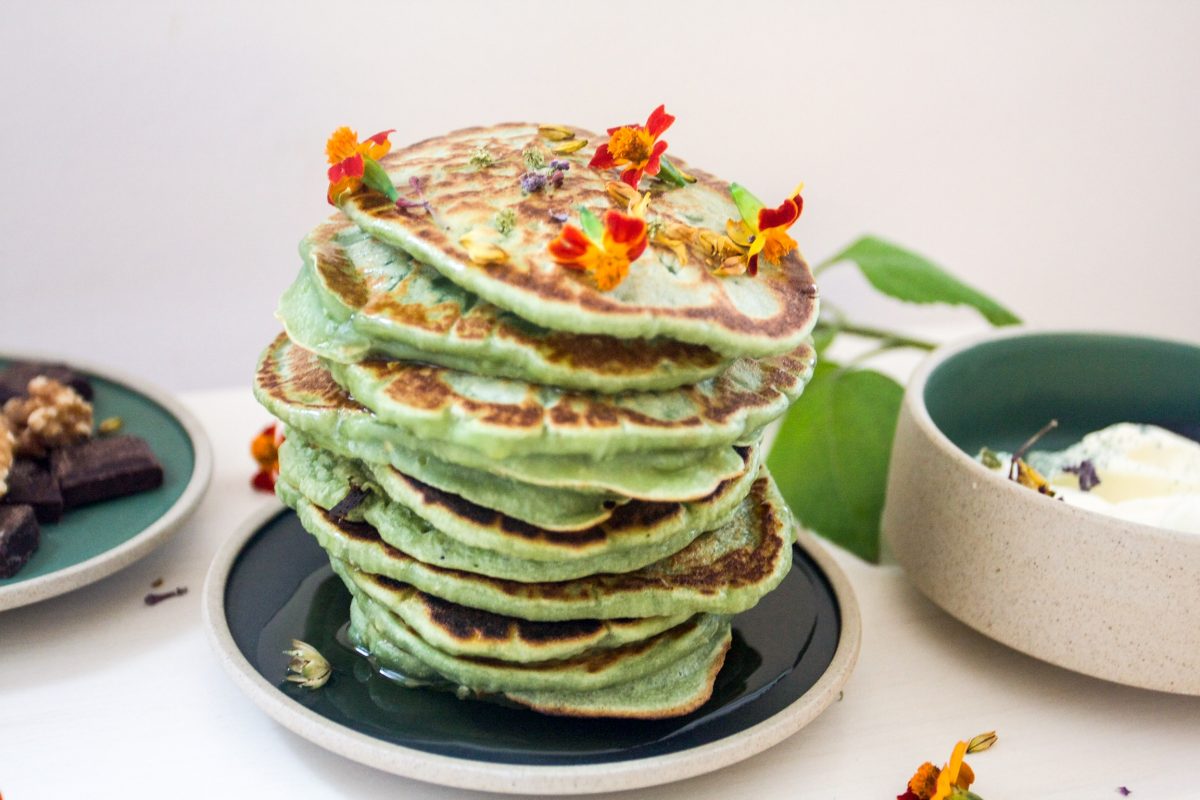 Ingredients
200 gr flour
65 gr oats
2 tsp baking powder
1/2 tsp salt
1 tbsp honey
1 tsp vanilla powder
2 tsp spirulina powder
2 eggs
150 gr milk or oat milk
30 gr butter or coconut oil
100 gr maple syrup (toppings)
50 gr blueberries
50 gr sliced bananas
50 gr peanut butter
100 gr whipped cream or coconut cream
Directions
Step 1

Combine all the dry ingredients.

Step 2

Add the milk and whisk in one egg at a time.

Step 3

Add honey.

Step 4

Melt the butter or coconut oil add to batter and whisk quickly.

Step 5

Let it sit for 10-15 min, the batter works better.

Step 6

Heat up pancake pan.

Step 7

Use about 85 gr batter for each pancake and bake in pan for no longer than 2M on each side.

Step 8

Serve with maple syrup, blueberries, bananas, peanut butter and whipped cream!