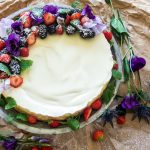 Print Recipe
Classic New York Cheesecake
Sometimes a classic is simply the best.
CRUST
150

gr

graham crackers

90

gr

melted butter
FILLING
700

gr

cream cheese

2

tsp

vanilla powder

330

gr

icing sugar

3

tbsp

flour

1

tbsp

lemon zest

2

tsp

lemon juice
TOPPING
200

gr

sour cream

1

tbsp

icing sugar

1

tbsp

lemon juice
Set the oven to 160 C/fan and place parchment paper at the bottom of a springform.

Melt the butter and use a mixer to crumb the graham crackers. Mix with the butter.

Distribute the crumbs at the bottom of the springform. Bake in the middle of the oven for about 10 min. Let it cool.

Raise the oven temperature to 250 C/fan.

If you have a kitchen aid or similar it's time to get that baby cracking. Whisk the cream cheese until smooth (about 2 min.) Add icing sugar, flour, a pinch of salt, vanilla powder, lemon zest and juice. Do this slowly, in order for the batter not to be filled with lumps.

Add one egg at a time. Make sure that they are at room temperature. Lastly, add the egg yolk. Make sure everything is mixed evenly.

Butter the sides of the form. Cut strips of parchment paper to fit the sides of the springform. Place them edge-to-edge. Butter the stripes with melted butter and attach to the sides. This makes it a lot easier to remove them later on.

Fill the springform with the batter. Bake in the middle of the oven for 10 minutes. Turn down the heat to 110 C/fan. Put the timer for 25 minutes. Turn off the oven. Let the cake stay in the oven with the oven door closed for 1 hour. After 1 hour open the oven door and let the cake cool in the oven for additionally 1 hour.

Meanwhile, mix the ingredients for the topping. Mix the sour cream, icing sugar and lemon.

Take the cake out of the oven and spread it evenly on top of the cake.

Cover the cake with foil and let it rest in the fridge for about 6 hours. Take it cake out of the fridge, place it on a serving platter and decorate.