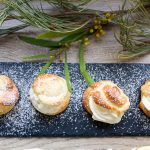 Print Recipe
Petit choux semla
The French meet the Swedish in one delicate bite of a puff pastry with fluffy whipped cream and almond paste.
150

gr

flour

130

gr

butter

5

eggs

room temperature

125

gr

water

luke warm

125

gr

milk

room temperature

1

tbsp

sugar
Put the oven to 200 degrees C.

Mix water, milk, sugar and butter in a pot on low heat.

Mix in the flour and stir strongly with a wooden spoon. Stir until the batter is no longer sticking to the edges of the pot. The batter should get shiny on the surface. Take the pot off the heat.

Add one egg at a time. It's important you mix one egg at a time and mix it properly. You will now get a creamy batter.

Pour the batter into a piping bag and pipe the batter into small round balls. They will expand quite a lot in the oven, therefore it's important to pipe them too close to each other. Leave some room in between them.

Bake in the middle of the oven for about 15-20 minutes. Keep an eye on them. When they are lightly brown open the oven door ever so slightly and leave the petit choux to dry for 5-6 minutes. I can honestly tell you that otherwise you'll be left with petit choux pancakes.

Take them out of the oven and let them cool properly before filling them.

Make the almond paste by grating it and mixing it with icing sugar and almond milk. Whipp the cream until firm and smooth.

Cut them in the middle and add a teaspoon of almond paste. Pipe whipped cream on top and sprinkle with icing sugar.