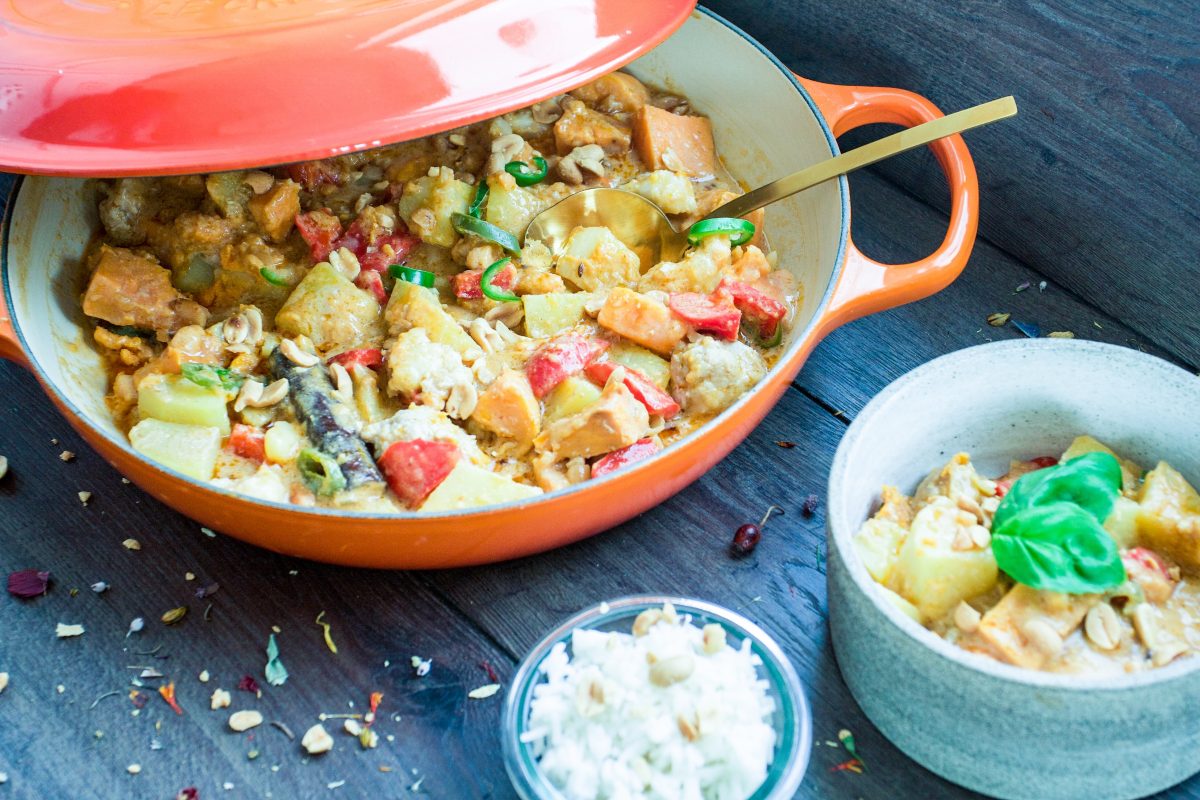 Vegan Massaman Curry – 1 Pot 30 Mins
Sponsored post from Le Creuset
Vegan Massaman Curry and all you need is one pot and 30 minutes. Sounds good right? I love this dish, and usually, Thai cuisine is not really up my alley. I like to eat it, in fact, it's what I choose when I eat Thai food. However, somehow I have never been pleased with the flavours. Until now. You will love it!
I spent the week in Stockholm at one of my bests friends place. She is vegetarian and has a milk allergy. She also got a new vegan cookbook, of course, we had to try it out! This Massaman curry is inspired by the Vegan Cashew Kitchen.
Vegan Massaman curry
Creamy, quick vegan Massaman curry
Ingredients
2

tbs

olive oil

3

tsp

red hot curry paste

4

tbs

crunchy peanut butter

400

ml

coconut milk

1

tsp

cumin seeds

2-3

tsp

flaked salt

1

piece

cinnamon stick

1

tsp

turmeric

1

smaller

red onion

300

gr

cauliflower

1

large

sweet potato

500

gr

potatoes

1/2

bell pepper

1

green chilli

1

tbs

shaved ginger

1

handful

fresh basil

100

gr

crushed peanuts
Instructions
Start by peeling and cutting the onion. Then sweet potatoes and potatoes.

Tear the cauliflower into small bouquets.

Cut the bell pepper and chilli into smaller pieces.

Cook the rice, follow instructions on the packaging.

Heat the oil and add the curry paste, cumin seeds, turmeric, salt and cinnamon stick. Fry on higher heat for 2-3 min. (Don't burn the seasoning)

Lower the temperature and add the peanut butter, salt, red onion and coconut milk. Stir until blended well.

Add potatoes, sweet potatoes and cauliflower let it cook until soft. (for about 25-30min)

Add bell pepper and chilli when it's about 10 min cooking left.

Top with crushed peanuts and fresh basil leaves.
I would love to hear from you! Comment, share and love!