When you try to eat seasonally in Scandinavia it gives you an option to eat a lot of root vegetables. Even though the sweet potato is only remotely related to the potato, it's still in the same family. I love roasted vegetables, therefore roasted sweet potato soup wasn't far off to make. Let me tell you guys, it's really tasty. It's creamy, it's full of flavours and it's vegan too!
However, first of all, I wanted to tell you guys that the reason I have been really absent on my blog is that I have been really ill. I know this is a food blog, therefore I won't dwell on personal stuff. However, it's been a rough couple of weeks. I will let you know what's going on when I have some answers. But for now, it's still a lot of testing going on.
But still a lot of exciting stuff has been happening and I will from now on update my home regularly, three times a week to be more exact.  So stay tuned.
Back to the roasted sweet potato soup, I'm going dare to say it, it will change the way you eat soup forever. I have someone in my household who is a self-proclaimed soup hater. This same person found the cold soup after it had been tweaked and photographed. And he ate the whole thing cold, leaving him wanting more roasted sweet potato soup.
When you roast the veggies before using them in the soup you bring out the natural sweetness in the veggies and brings another depth of flavours. Try it for yourself why won't you?
Roasted sweet potato soup
Creamy, rich, full of super healthy vitamins, such as turmeric and ginger. Sweet and spicy at the same time.
Ingredients
2

pieces

sweet potatoes

2

shallots,

diced

3-4

cloves

garlic

2

tbsp

ginger

grated

1/2

tbsp

turmeric

ground

1

tbsp

chilli

flaked

1

tsp

cayenne pepper

add more if you want more spice

1/2

tbsp

thyme

dried

3

tsp

salt

flaked

3

tsp

black pepper

ground

400

ml

coconut milk
Instructions
Preheat oven to 220 degrees C and cut the sweet potatoes and shallots in half. Bake the sweet potatoes, garlic and shallots for about 30 minutes.

Skin the potatoes and garlic and puree with an

immersion blender

. Add the shallots and mix.

Peel and grate ginger.

Add the ginger, thyme, cayenne pepper, chilli, salt and pepper to the pot and cook for a minute.

Stir in the coconut milk and bring to a boil. Reduce heat and let it simmer for about 15 minutes.

Serve!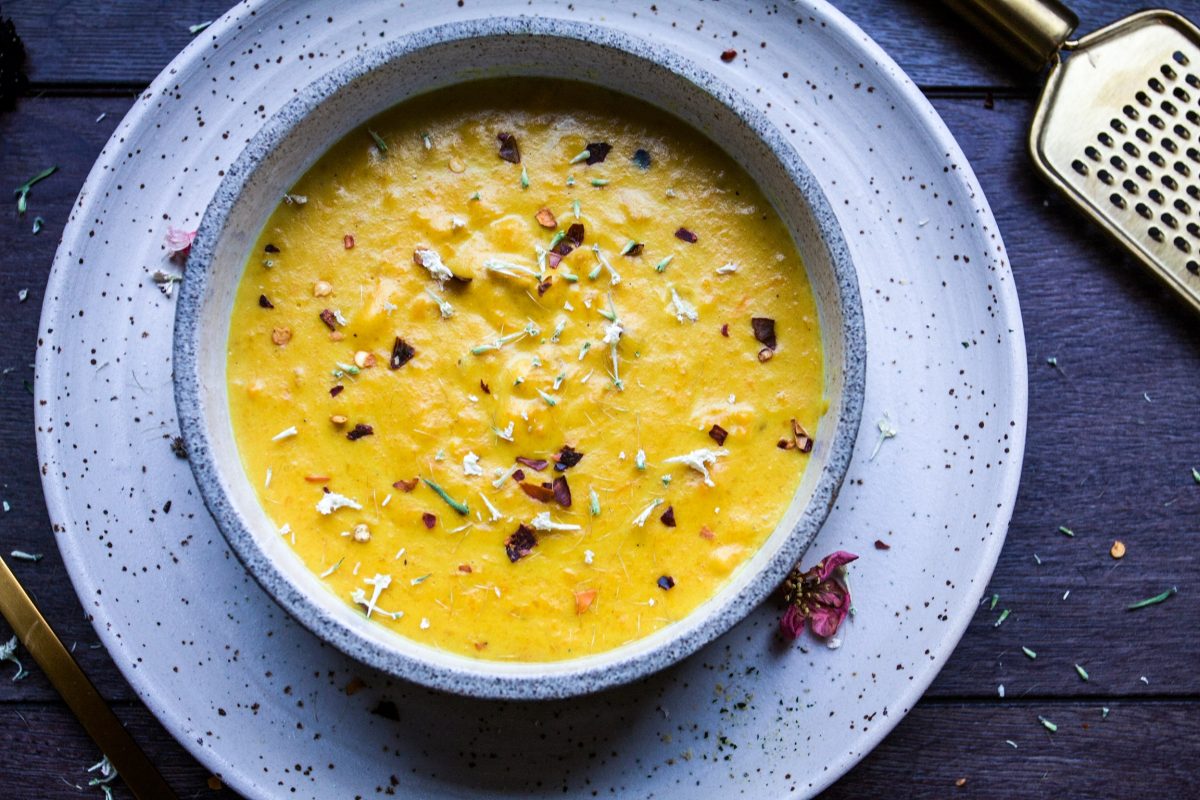 Do you love roasted veggie soups as much as I do? Try this wonderfully sweet roasted tomato soup.