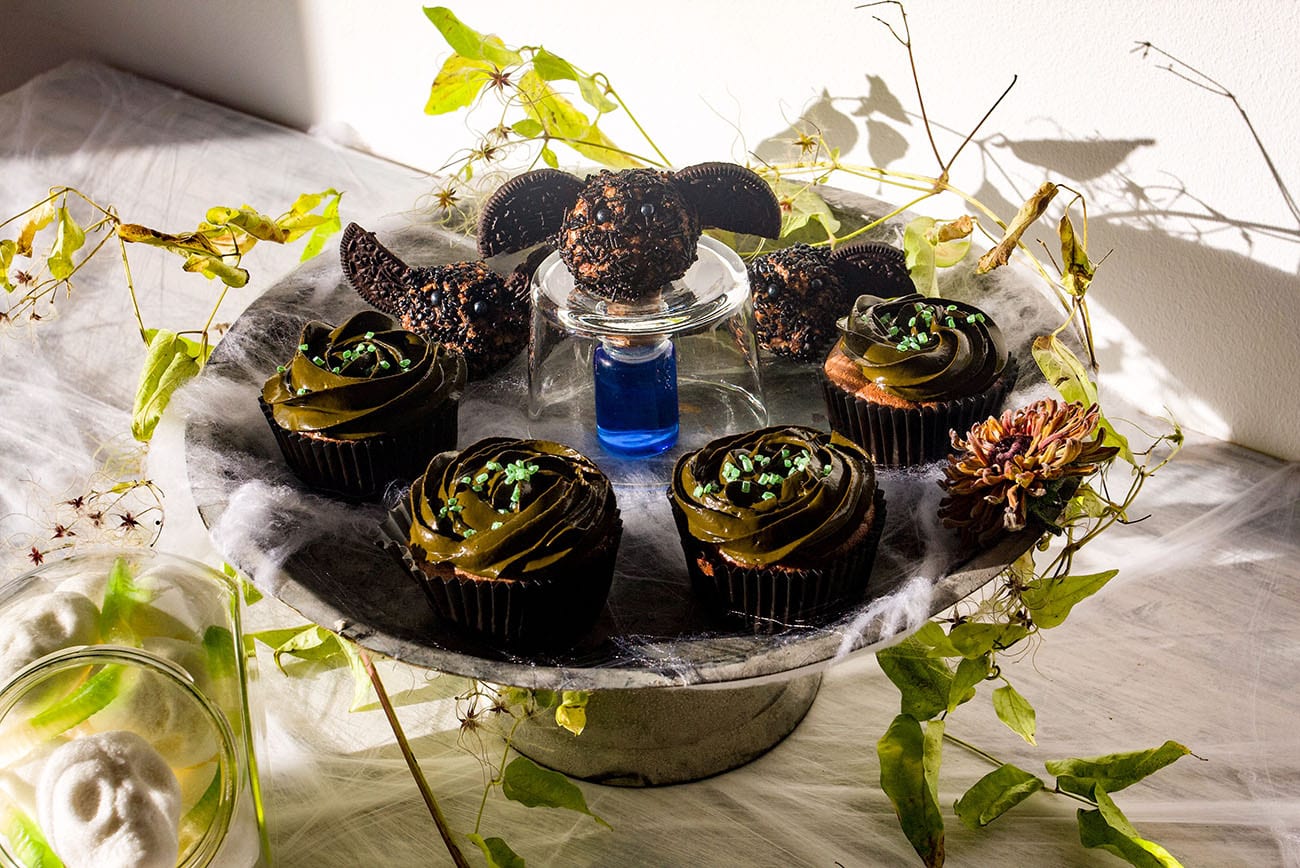 Easy Halloween cupcakes, don't you like the sound of that? I sure do. Easy is right up my alley right now. There are so many Holidays and birthdays this Autumn. Therefore easy Halloween cupcakes are fantastic!
Keeping it real
As I mentioned in my previous blog post, I always set out huge goals for myself. Then, well reality hits… These easy Halloween cupcakes were an instant hit. I decided to call them pukey cupcakes. However, with this colour, they can easily be called bird poo too.
Scary vs disgusting
They are not scary cupcakes, but to be honest, they look quite disgusting. It's a visual mind trick. Even though I made them myself, and I know what is in them. It took a little while to eat them. I'm such a visual eater and if it doesn't look good I have a hard time crossing the line. My brain has got to get aligned with my taste buds.
These easy Halloween cupcakes have a sweet little surprise inside them. A chocolate bonbon. I like to hide little candy gems inside cupcakes.
Green with envy
So how did they turn so green? I'll let you in on a little secret. They weren't supposed to. The easy Halloween cupcakes were supposed to turn black. But apparently, the pigment in the black food colouring turns it green. If you leave the frosting for a day they do turn to a deeper green. More on the black side. But the more black food colouring I added the more it looked like bird poo.
Easy Halloween cupcakes
Super delicious and easy Halloween cupcakes to make any Halloween party complete.
Ingredients
100

gr

Butter

softened

80

gr

Coconut sugar

2

medium

Eggs

285

gr

Flour

2,5

tbsp

Cacao powder

2

tsp

Baking powder

0,5

tsp

Salt

1

tsp

Powdered vanilla

10

Chocolate bonbons
FROSTING
200

gr

Cream cheese

60

gr

Confectioner's sugar

2-3

tsp

Vanilla essence

0,5

tsp

Black food colouring
Instructions
Set your oven to 190C/fan and line a muffins tray with individual muffin cases.

Mix softened butter and sugar until smooth. Add one egg at a time.

In another bowl mix flour, baking powder, salt, vanilla and cocoa powder.

Take out your spatula and fold the flour mixture into the butter mixture.

Fill the muffin cases to a 3/4 and press down a chocolate bonbon in the middle of each muffin.

Bake in the middle of the oven for about 12 minutes. While the cupcakes bake in the oven, make the frosting.
FROSTING
Mix cream cheese, vanilla, confectioner's sugar and black food colouring. I used Wilton's 1M tip for frosting. Which turns the frosting into looking like roses a little bit.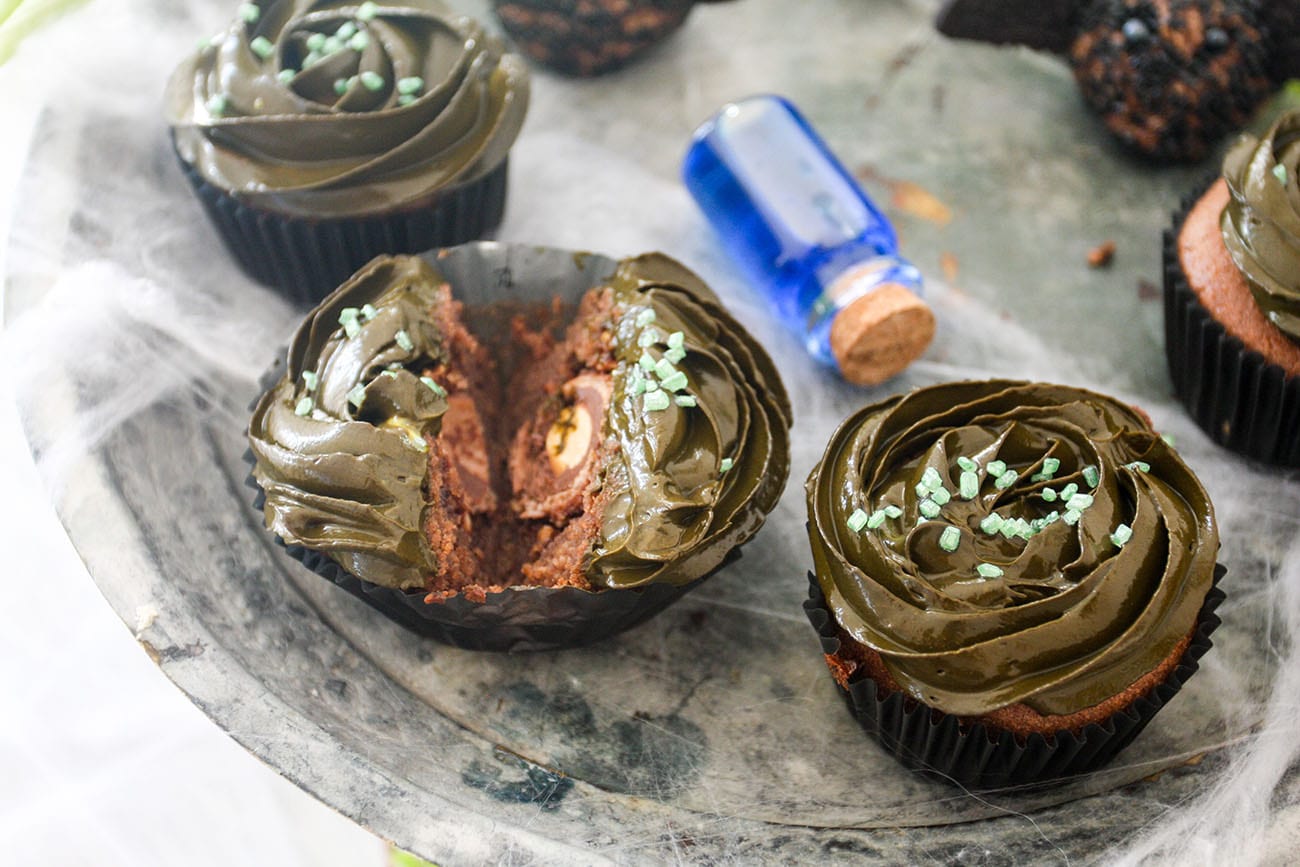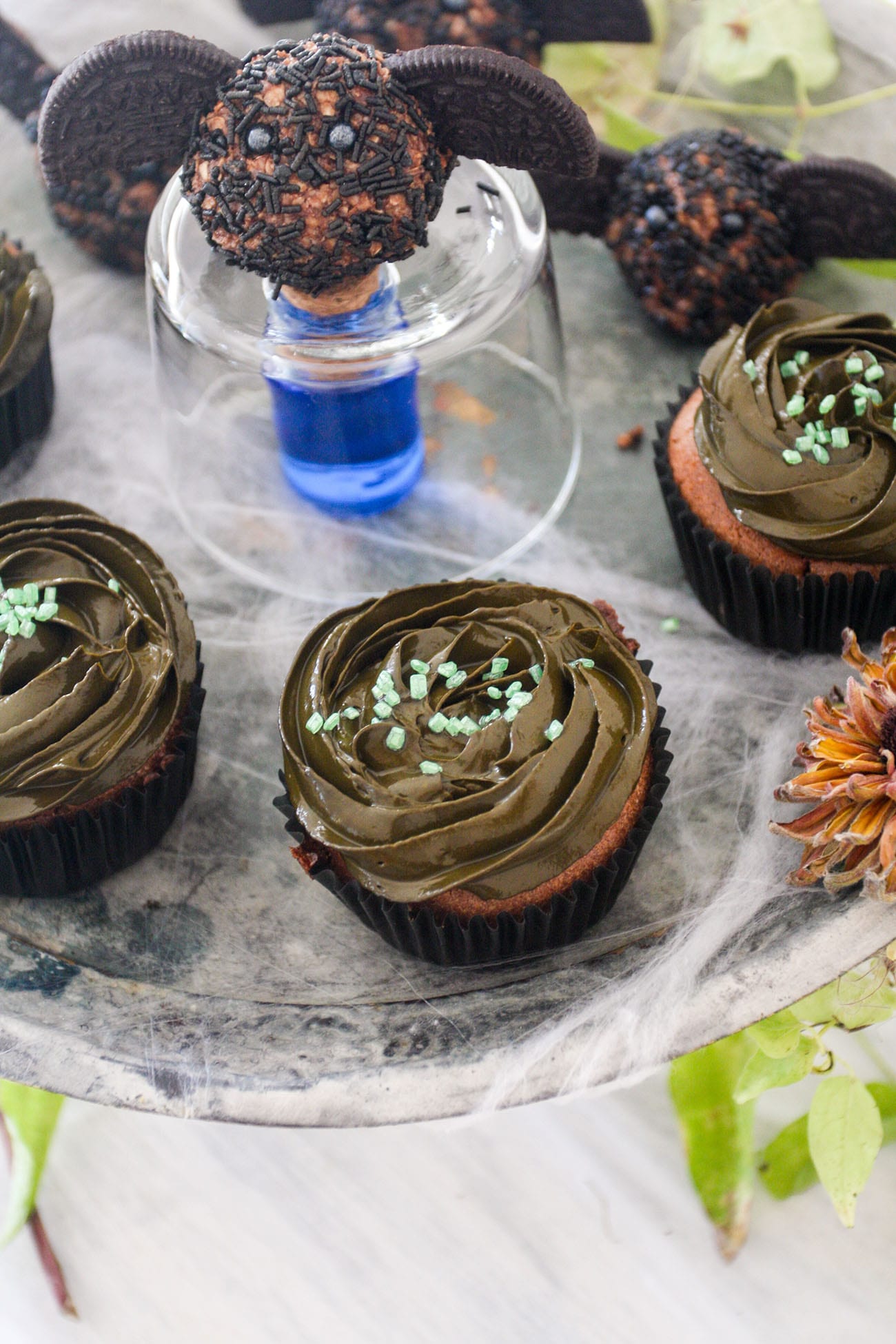 Hope you enjoy them!