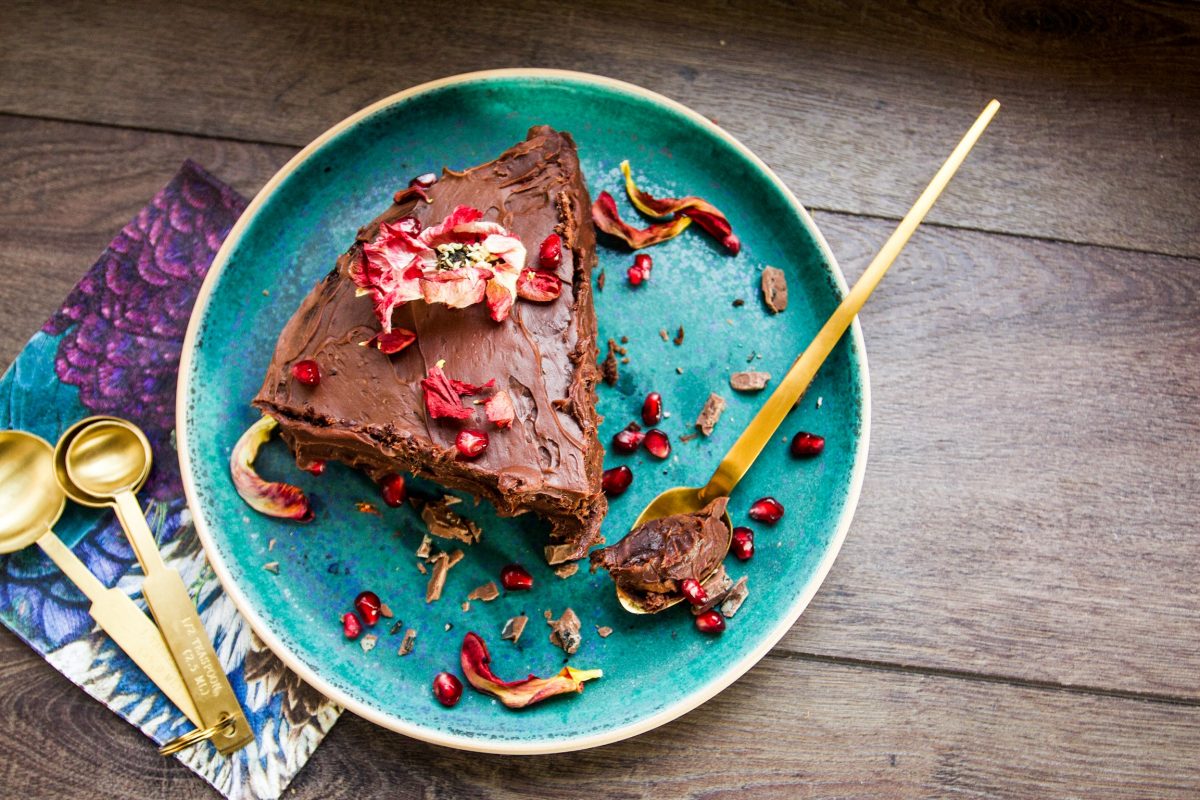 Devil's chocolate cake – sinfully delicious
I'm daring and so is this chocolate cake. I'm going to dare say it, it's the best chocolate cake you'll ever make. I made it many times over the years and every time I make it it's pure perfection. It's adapted from the Eisenman sister's cookbook – Two sister's sweet.
It was my very first cookbook and really at that time no one else was writing about the decadent desserts in America. The best chocolate cake also goes by another name, Devil's chocolate cake. Like with so many other soft cakes the trick is to keep the cake moist. How does one best do that? With love, butter and timing.
There yet another few tricks to succeed with the best chocolate cake. The butter needs to be soft and room tempered and the same goes for the eggs. Contrary to popular belief, eggs don't need to be refrigerated. When you make a cake and all the ingredients hold the same temperature it makes the cake easier to make and it tastes better.
Tip: If you a pressed for time you can make the chocolate cream ahead of time. If you don't like chilli flavour you can leave it at is, or add a pinch of flaked salt for example. Either way
[lt_recipe name="Devil's chocolate cake" servings="8″ prep_time="20M" cook_time="40M" total_time="1H" difficulty="Medium" summary="This mouthwatering chocolate cake is the best chocolate cake you will ever try. I promise. " print="yes" image="https://www.carolinevass.se/wp-content/uploads/2017/12/IMG_0432.jpg" ingredients="220 gr butter;250 brown sugar;3 eggs;125 gr cocoa powder;500 gr flour;1,5 tsp bicarbonate ;1/2 tsp baking powder;1 tsp vanilla;450 gr water;;chocolate cream;650 gr dark chocolate ;100 gr whipping cream;100 gr butter;100 gr cream cheese;1-2 tsp flaked chilli;50 gr powder sugar;" ]start by setting your oven to 175 Celcius convection and 185 Celcius for an electric.;Grease a springform (24 cm) and set aside.;In a mixing bowl, whisk butter and sugar until smooth and white. ;Add one egg at a time. ;Mix the dry ingredients another bowl.;Add water slowly to the butter mix.;Add the flour mixture and mix until smooth. ;Pour the mixture into the springform and bake in the middle of the oven for about 40 minutes. (Keep an eye on the cake);;Chocolate cream:;Melt the chocolate over a water-bath.;Add the whipping cream, butter and chilli flakes.;Let it chill in the fridge for about 25 min and then add powdered sugar and cream cheese. Mix until smooth.;Let the cake chill and cut into two half. ;Spread the chocolate cream generously on the bottom half and repeat on the top half. ;Decorate and serve.; ;;[/lt_recipe]